British Columbia Passenger License Plates
2014 - 2025

On May 25, 2010, Vancouver's News 1130 broke the story that ICBC was running out of license plate combinations and that the introduction of a new serial format would occur.
Specifically, the Corporation's Senior Media Relations Advisor, Adam Grossman, advised that "there won't be any more 'three letter, three number' combinations by 2013 [but] after much research a solution has been found [and] typically where we see three letters, followed by three numbers - we're actually going to be seeing a sequence of two letters and a number, followed by two numbers and a letter."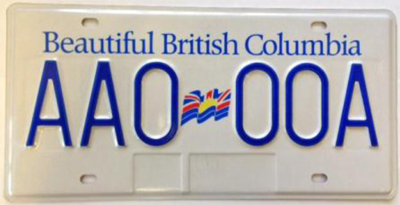 2014 - 2025

Issuing Statistics

| | |
| --- | --- |
| | AA0-00A to AX9-99X |
| | BA0-00A to BX9-99X |
| | CA0-00A to CX9-99X |
| | DA0-00A to DX9-99X |
| | EA0-00A to EX9-99X |
| | FA0-00A to FX9-99X |
| | GA0-00A to GX9-99X |
| | HA0-00A to HX9-99X |
| | JA0-00A to JX9-99X |
| | KA0-00A to KX9-99X |
| | LA0-00A to LX9-99X |
| | MA0-00A to MX9-99X |
| | NA0-00A to NX9-99X |
| | PA0-00A to PX9-99X |
| | RA0-00A to RX9-99X |
| | SA0-00A to SX9-99X |
| | TA0-00A to TX9-99X |
| | VA0-00A to VX9-99X |
| | WA0-00A to WX9-99X |
| | XA0-00A to XX9-99X |
Grossman went on to state that "ICBC looked at moving to seven character combinations like Ontario and Alberta, but found it would be a costly switch, and would interfere with administrative systems for brokers that are built for the six character system. Seven character combinations would also require smaller numbers and letters, making plates harder for police to read."
Accordingly, the Corporation took the classic "AAA-000" format and shifted each character one position to the left, thereby creating an additional 8,000,000 license plate combinations. It is thought that at current issuance rates and anticipated growth in vehicle registrations, that this will create an approximately 8-10 year supply.
If this "new" AA0-00A format looks oddly familiar, that is because it is! The Corporation has been using it for the past three years on the redesigned Consular base first introduced in 2007:
| | |
| --- | --- |
| | Ignoring the placement of the "Mountain" logo (also known as the "BC Mark") the AA0-00A format becomes readily apparent in this example of a Consular plate. This particular plate is assigned to "Career Consular Officers", hence the use of the "CC" letter combination prior to the three numbers. |
While ICBC has not provided any details on how the series will progress, it is assumed that it will start at "AA0-01A" and follow the sequencing seen on the Consular base - in which case, it is likely that the "DL"; "CC"; "HC"; "CS" and "SR" prefixes have already been blocked out.
In addition, whereas the traditional sequence saw the letters "K" and "L" act as strategic breakpoints in the series, it is thought this will be abandoned in favour of the system employed on the more recent Veteran and Olympic passenger base plates. For example:
Traditional Sequence

Veteran & Olympic Sequence*

Consular Sequence*

Anticipated "AA0-00A" Sequence

AAK-998

AAK-998

AA9-98K

AA9-98K

AAK-999

AAK-999

AA9-99K

AA9-99K

ABA-000

AAL-000

AA0-00L

AA0-00L

ABA-001

AAL-001

AA0-01L

AA0-01L

ABA-002

AAL-002

AA0-02L

AA0-02L

* indicative only
As it seems that ICBC is intent on retaining the six-digit format due to cost considerations, it is assumed that when the "AA0-00A" format is exhausted, each character will again be shifted another position to the left, thereby creating a " A00-0AA" format - which is similar to that currently employed by Utah (see below).
Of particular interest is that the Corporation explored the possibility of re-designing the license plates and implementing a general re-issuance in 2013, thereby allowing for all existing plates to be pulled-off the road, and the series to recommence at AAA-000, however, this was ruled out as it was "felt it would be too costly, administratively burdensome and not environmentally responsible."
In taking this route, however, ICBC is now confronted with the challenge of determining what to do about those license plates that were issued in the 1980s and early 1990s and are still on the road, yet due to age and exposure to the elements are slowly becoming illegible as their paint of reflective sheeting slowly come off?
| | |
| --- | --- |
| | Although the plate shown at left is not a passenger plate, it clearly shows some of the problems that ICBC is facing with aging plates. This plate would have been issued in 1987 and appears to have been on the roads over the past 24 years. |
By way of example, in Washington State it is law that license plates be replaced every seven years as the reflective coating is considered to break down after this point, making it hard for law enforcement officials to see the plate in bad weather. Given one of the reasons for ICBC not introducing a seventh digit to BC plates was due to concerns from law enforcement regarding the legibility of such plates, it is thought that the Corporation will soon have to consider a similar license plate replacement regulation for BC motorists.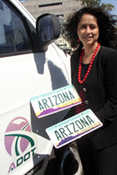 The Corporation's concern for the environment in deciding against a general re-issuance is commendable, however, when asked if this would extend to the manufacturing of the new plates through the use of digital flat plate technology, ICBC was noncommittal advising that "few details regarding it are final yet." Yet, when Arizona introduced a new 7-digit format in 2008 the change was promoted as being "environmentally responsible ... [by] eliminating the toxic fumes released as the paint dried." While there are also cost savings associated with going flat, and that Waldale is capable making such plates, it is known that flat plates are not favoured by law enforcement due to the ease with which snow and dirt can conceal the number and it is thought that, for this reason, ICBC will eventually decide against such plates for BC.
Although ICBC had advised that a new license plate design was not being considered as part of the new letter-number combination, it was queried if this then ruled out a re-design at any future point - remembering that the current "Flag" design is now 25 years old (see "
British Columbia's Licence Plate Turns 25
"). In response the Corporation advised that "we are always considering options available to us but there are no plans at this time to redesign the B.C. licence plate."
| | |
| --- | --- |
| | |
As a result of our queries on the demise of the 400 bloc of numbers in November 2014, ICBC was kind enough to share some of the other letter & number combinations that they have had to exclude from production due to the new AA0-00A format. While some are expected, such as those combinations associated with the Consular base, there are some other interesting ones that we never would have thought of (especially the idea that people already have personalised plates that utilise the same format!):
Serial From

Serial To

Reason

Serial From

Serial To

Reason

AS500A

AS599A

AS5 resembles ASS

CF100R

CF124R

PNP Slogan

AS500B

AS599B

Offensive sequence

Foreign Rep Plate

AS500C

AS599C

Offensive sequence

CT200H

CT224H

PNP Slogan

AS500D

AS599D

Offensive sequence

DC650A

DC674A

PNP Slogan

AS500E

AS599E

Offensive sequence

Foreign Rep Plate

AS500F

AS599F

Offensive sequence

EC325J

EC349J

PNP Slogan

AS500G

AS599G

Offensive sequence

GR875T

GR899T

PNP Slogan

AS500H

AS599H

Offensive sequence

GS450H

GS474H

PNP Slogan

AS500J

AS599J

Offensive sequence

GT350H

GT374H

PNP Slogan

AS500K

AS599K

Offensive sequence

GT350R

GT374R

PNP Slogan

AS500L

AS599L

Offensive sequence

GT500E

GT524E

PNP Slogan

AS500M

AS599M

Offensive sequence

GT500R

GT524R

PNP Slogan

AS500N

AS599N

Offensive sequence

Foreign Rep Plate

AS500P

AS599P

Offensive sequence

HS250H

HS274H

PNP Slogan

AS500R

AS599R

Offensive sequence

LS600H

LS624H

PNP Slogan

AS500S

AS599S

Offensive sequence

MB275C

MB299C

PNP Slogan

AS500T

AS599T

Offensive sequence

MB300E

MB324E

PNP Slogan

AS500V

AS599V

Offensive sequence

ME400S

ME424S

PNP Slogan

AS500W

AS599W

Offensive sequence

MH900E

MH924E

PNP Slogan

AS500X

AS599X

Offensive sequence

RG500R

RG524R

PNP Slogan

BB850B

BB874B

PNP Slogan

RX450H

RX474H

PNP Slogan

BJ000A

BJ999X

Offensive sequence

SH325P

SH349P

PNP Slogan

BS000A

BS999X

Offensive sequence

SL500R

SL524R

PNP Slogan

CB900F

CB924F

PNP Slogan

Foreign Rep Plate

Foreign Rep Plate

SR975T

SR999T

PNP Slogan

CF100B

CF124B

PNP Slogan

VD000A

VD999X

Offensive sequence
Funny how times change. When the first alpha-numeric plates were issued in 1970, some residents of Victoria were rather perturbed that the low numbers they historically received had been replaced with plates starting with 'VD', which some interpreted to mean Venereal Disease! The Motor Vehicle Branch (MVB), however, did not share their concerns and issued the plates. 45 years later and 'VD' is now deemed an offensive slogan ...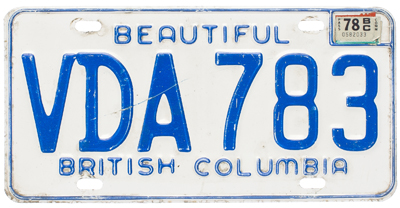 The Front License Plate Debate

Have you too seen odd looking license plates on the front of a car that appear to be flat and without mounting holes (or bolts for that matter)? Are you wondering why someone would go to the trouble of ordering their own license plate (living like it is 1912 again)? If so, the following page might offer some insights into what is going on:

Click Here

!
Closing of the Burnaby Warehouse
On March 16, 2017, ICBC released one of their occassion Bulletins (No. 18) adivsing that their Burnaby Warehouse (6100 Kingsland Drive) was going to be closing at the end of the month and providing direction to various agenices, including Autoplan Agents, on where to send license plates for final processing and recycling (the recycling component of which was ultimately completed by Pacific Metals Limited of Vancouver).

For posterity, we have archived
Buletin No. 18
, but some of its highlights include the name and location of the business that this function has been outsourced to; Hemlock Harling Distribution Inc at #110-11388 No. 5 Road in Richmond.
It is not clear from the Bulletin about what is going happen to the other functions that previously occurred at the Warehouse, such as the storage and distribution of license plates to Autoplan Agents:
We do know, thanks to a friend of the site, that the records previously stored at the Warehouse have been shipped off for archiving with a private firm.
As we find out more, we shall update this section.
Evo (the evolution of car sharing) and "EV0" license plates!
Launched in March 2015, "Evo" – which we assume is short for evolution - is a car-sharing service operated in the Greater Vancouver area by the British Columbia Automobile Association (BCAA). Evo offers the use of Toyota Prius Hybrid vehicles only and allows for one-way point-to-point rentals. Of interest to us is that BCAA was able to acquire upwards of a couple of hundred license plates in the serial range of "EV0-00A" to "EV0-99A" and "EV0-00B" to "EV0-99B").

Someone has been pranked!
Practical jokes are always fun, such as putting the back plate on the front of a car and vice-versa so that the plate on the back no longer displays the registration decal, or turning the back plate upside down - particularly when the registration numbers and letters can be read both ways (what are the chances?)!


© Copyright Christopher John Garrish. All rights reserved.