British Columbia Off-Road Vehicle License Plates


On November 17, 2014, a new Off-Road Vehicle license plate was released and intended for use on all-terrain vehicles and replaced some of the requirement of the
Restricted
vehicle license plate: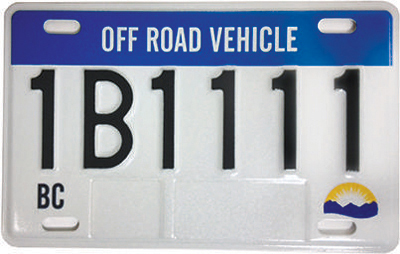 The design elements of the plate are fairly self-evident and, in one respect, a little curious (i.e. continued use of the acronym "BC" - which is a cary-over from the Restricted plate - instead of the proper reference to "BRITISH COLUMBIA"). It is also understood that numbering will commence at "0B0001" through to "9B9999" before rolling over to "0C0001".
Background: 2009-2014
On November 10, 2009, it was announced by the (then) Minister of Tourism, Culture and the Arts, Kevin Krueger, that new rules for Off-Road Vehicle (ORV) registration would be implemented over the course of the next two years.
According to Krueger, "we've heard much from ORV groups, the public, and other stakeholders, including the chief coroner and the Union of BC Municipalities on this topic. There is a broad consensus that it is time for ORV regulations; we have a common vision and a solid blueprint for action."
Under the new framework, all ORV riders using Crown land were to be required to obtain a one-time registration with a licence plate for their machines. Moreover, all ORVs would require registration and licensing at time of sale and re-sale.
And then there was silence ... until ...
Bill 13 - Off-Road Vehicle Act
In March of 2014, legislation was finally introduced to implement the government's promise from five years earlier to register ATVs, snowmobiles and dirtbikes. According to the new Minister, "the previous act is 40 years old [and] in the intervening years there has been a significant increase in off-road vehicles in the back country, and the sector continues to grow ... The Off-Road Vehicle Act fills this need. It establishes a more effective registration system that will be self-funded and allows for the development of safety standards and conditions for a wide range of off-road vehicles."
The display of these plates will be voluntary from November 17, 2014, and will be mandatory from June 1, 2015.
Documents:
Overview
Thanks to a submission from Don Schneider, a regular contributor to this site, we are getting a better understanding of these plates. If you only intend to use your snowmobile or ATV on Crown land you are only subject to the one-time registration fee of $48 (which, we are assured, will really be the only fee that will ever be required).
If, however, you intend to ride your snowmobile or ATV over a public road, then you will need to insure it with the Insurance Corporation of British Columbia (ICBC) and display the proper registration decals.
For plate watcher's, this means that there are essentially two variations to these plates which will be totally random depending upon how the person issued the plate intends to use their off-road vehicle. Specifically, there will be those which display a registration decal, and those that do not - both of which will be equally valid plate types.
Interestingly, the Restricted plate is one of the few (along with Personalised, Collector and Antique) that did not display the old Socred "flag" logo. Interestingly, and as is the policy these days, the "BC Mark" symbol has been introduced at the bottom right. The plates also display the larger characters introduced onto motorcycle plates in 2011, which, again, leads us to wonder when the Corporation is going to bring consistency to these plates and give them all these characters (including the Restricted).
On Delays and Decals (May 20, 2015)
We here at BCpl8s can only imagine the administrative mess that the Off-Road Vehicle license plates are becoming for the province. Not only was the deadline for mandatory registration off all ATV operators pushed back another 6 months (to November 1, 2015) today in order to allow bureaucrats more time to sort out the details of the program, but the announcement related to the "ICBC-issued" programmed was released not by the Corporation but the Ministry of Forests, Lands and Natural Resource Operations - Huh?!?!?
An example of the behind the scenes changes still going on is the announcement that a numbered sticker of the same size and design as the metal license plates is going to be made available. Apparently this "addresses a key request from off-road motorcycle and snowmobile groups". Really? It took five years from the announcement of such plates (2009) to their release (2014) and the province was not aware, or chose not to respond to the concerns of motorcycle and snowmobile owners about the need for a sticker until after the fact - Huh?!?!?
We also think there is something ironic about the introduction of decal option to appease the sensibilities of vehicle owners who think it too cumbersome or aesethetically displeasing to have to screw a metal license plate to their vehicle. As we have written elsewhere, owners of sports-cars have been complaining for years about having to screw a front license plate onto their vehicles. If on-line discussion forums are to be believed, these motorists occassionally get ticketed when they have gone without a front plate or substituted their own replica magnetic decal (
Click here
to read more). If I was one of these driver's I would be pushing a lot harder for an ICBC approved license plate decal option such as the one being afforded to off-road vehicle owners.
While we await the release of further details this fall, we were happy to see some data about intial registrations. Namely, of the estimated 200,000 ORV owners in BC, only 20,000 (i.e. 10%) have taken the time to register their vehicles.
The Push is On! Countdown to deadline day ...
This is it (seemingly)! No more delays and no more extensions. So, the province is rolling out a final push two week before the November 1, 2015, deadline to remind and encourage off-road vehicle owners to register and attach their plates:
In addition to the nifty video (above), a number of photos from the event staged at the front of the Legislature were posted by the Ministry of Forest, Lands and Natural Resource Operations on their Flickr account - including our first view of the sticker that is being made available for snowmobile operators:
Shown here (at left) is a sample of the Off-road decal while above is the actual thing.
We also found out that since May, a further 15,000 people have registered their off-road vehicles, bringing the voluntary total to 35,000 or only 17.5% of all such vehicles. Given the "C" has already been assigned to the decal, we are curious what the next letter to be used on the plates will be once all 200,000 vehicles are registered. The obious next letter would be "D", but we have been surprised before ...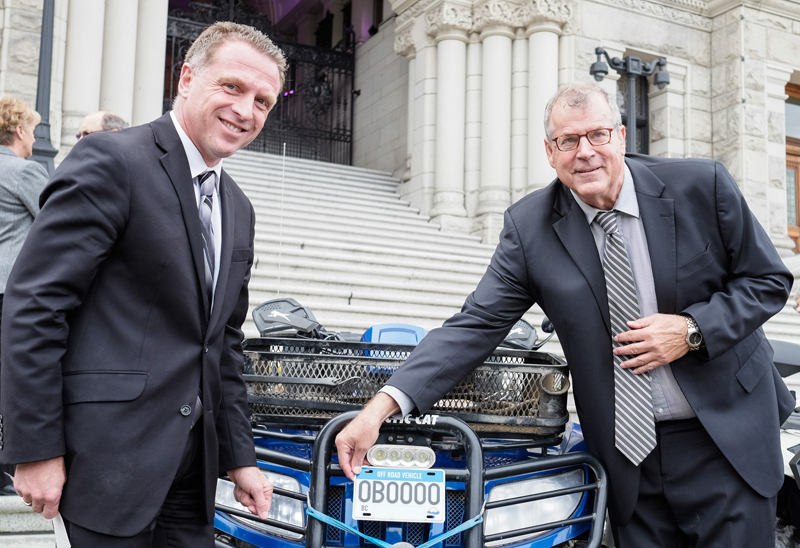 ICBC has also posted a Bulletin (No. 13) to their web-site detailing some of the basics of these new plates. For ease of access, we have archived this Bulletin on BCpl8s.ca, and it can be accessed by
Clicking here
!

Program Uptake (2016)

One year after the introduction of mandatory registration of ORVs that are to be used on Crown land, news reports are surfacing of the "frustration" such vehicles owners are experiencing because some of them never bothered to keep their proof of ownership papers - which is a requirement for obtaining registration.

Apparently, many owners threw out their paperwork "because they simply weren't needed unless owners planned to drive their off-road vehicles on-road." While no one on staff at BCpl8s.ca owns an ORV, we wonder if concerns about proving ownership in the event of theft, or making claims on house insurance (or other coverage) in the event of an accident, or even calculating depreciation for possible tax purposes wouldn't seem to suggest the keeping of such paperwork?


The government has advised that this is not really its problem and will continue to enforce against ORV users on Crown land who are not displaying an ORV plate (kudos to the Ministry).

Despite these paperwork problems, thanks to a news story in the local Kamloops and Merritt newspapers at the end of 2016, it was being reported that approximately 105,000 Off-road Vehicles had been registered and issued ORV plates. This is of the estimated 200,000 ORVs in the province.
| | |
| --- | --- |
| | |
Road Kill - Backcountry Style!
While we here at BCpl8s.ca rarely venture into the backcountry on dirt bike, ATV or snowmobile, we suspect the rugged terrain results in a fair number of Off Road plates becoming separated from their vehicles and turning into road kill on the side of trails and paths.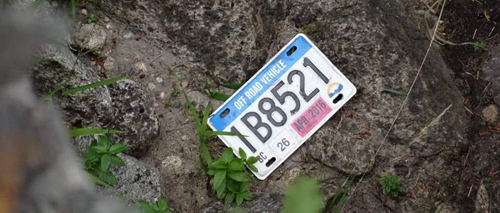 The plates below offer an interesting case. Plate No. 9B7087 was lost on a trail ride and when the vehicle owner went in to get a replacement, the next available number (9B7088) was still available:

© Copyright Christopher John Garrish. All rights reserved.