The Battle in Seattle? Quebec City Summit of the America's? How about were it all started; the 1997 APEC Conference in Vancouver!
It is understood that the plates shown above were produced for ICBC in a block of 250 pairs (for a total of 500 individual plates). It is thought that the numbering started at No. 100 and progressed through to No. 350.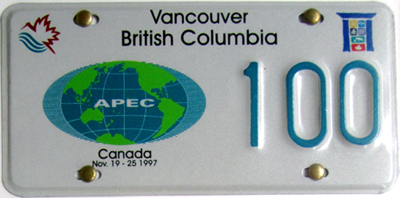 The first plate in the series - No. 100.
These plate were for use on the official motorcades serving the economic leaders attending the 1997 APEC conference held in Vancouver between November 19th to 25th of that year.
The design of the plate incorporates an over-sized image of the APEC logo (at left) and the serial (at right). Other features include the Federal government's "Canada's Year of Asia Pacific" logo (at top left); and the Provincial government's "Pacific Gateway" logo - which was described as "British Columbia's symbol of welcome to visitors" (at top right).
| | |
| --- | --- |
| | At left is a picture of one of the returned plates that was mounted and framed, along with a dedicatory note, by ICBC and then presented to various dignataries and corporate sponsors. It is understood that this particular plate (i.e. No. 216) went to BC Tel after the Conference. |
It is also thought that, following the conclusion of the Conference, all of the plates were required to be returned to ICBC and that, once all collected, these plates were then presented by the Province to all of the dignitaries from the participating countries as well as the corporate sponsors. Consequently, it is extremely rare to find any of these plates in the form of a matching pair, as most sets were broken up.
There is a slight design variation on the plates used by the Canadian Military during the Summit as is evidenced by the presence of maple leaves on plate No. 134 versus the absence of such leaves on the other two plates shown above. Plate No. 960 is reported have been on the vehicles escorting President Bill Clinton.
Not as flashy as the plate produced for ICBC, the above series of plates were used by the Canadian military during the Conference. The serial of these plates remains unknown, but it appears clear from those pictured above that there were significantly more military vehicle in Vancouver during the Conference than there was vehicle shuttling the dignitaries around.