Souvenir License Plate: 1985 - 2002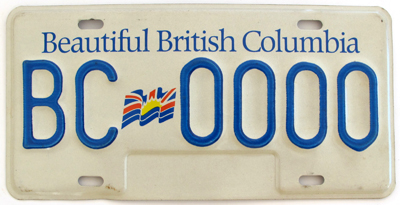 When the province introduced the new "Flag" graphic in 1985, the practice of making genuine Sample plates available to collector's was replaced with a Souvenir plate stamped on the Truck base and displaying a "BC-0000" serial.
Unfortunately, this plate was routinely confused as a genuine BC license place in other jurisdictions.
Due to concerns surrounding the ambiguity of the "BC-0000" type as an easily identifiable Souvenir plate, ICBC made the decision to phase it out as of November 2002.
In its place, collectors are now able to order genuine "SAMPLE" plates for a fee of $21.50 CDN (GST included); payment must be made by certified cheque.
© Copyright Christopher John Garrish. All rights reserved.