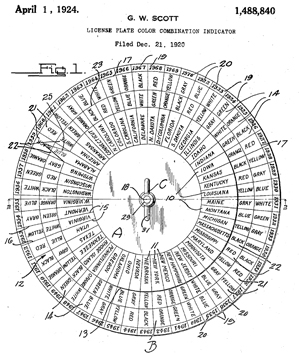 Take the "License Plate Color Combination Indicator" (or Colour Wheel) pictured at right, which was patented by Gilbert W. Scott of La Salle Illinois on April 1, 1924 (no joke!). The "prime objective of the invention is the provision of a device for chronological arrangement of a uniform system of automotive vehicle registration throughout a country."
La Salle reasoned that "due to the fact that the abbreviations of States and districts are sometimes unilegible as printed upon license tags and due to the fact that in the United States, some States adopt the same color combinations upon the license tags for the same period of time, it has been impossible for the authorities in one State to definitely apprehend to what State a vehicle belonged, the occupants of which had been guilty of an offense and made their escape; although the authorities might even have secured the color combination and license tag number."
While it is not clear if La Salle met with any success in pitching his Colour Wheel to any of the U.S. States, keeping track of colours and avoiding conflict was very important.