British Columbia Memorial Cross Recipient License Plates


On November 10, 2016, in a special ceremony held at the Beatty Drill Hall in Vancouver the provincial government announced a new commemorative licence plate for recipients of the Memorial Cross aptly named the "Memorial Cross Recipient" plate:
The design of the plate is very elegant in its simplicity with purple letters on a reflective white background, and graphics limited to the Memorial Cross symbol (at left) and the Canadian flag (top-right - similar to the Veteran plate). The plates will be issued in pairs with the Passenger-Vehicle appearing to commence at "MC0-01R" and the Commercial Truck series at "MC-1000". Missing the from the plate is the "BC Mark", which is not really surprising as the Veteran base does not display it either.
Passenger Plates Issued

| | |
| --- | --- |
| 2017-04-01: | MC001R to MC019R |




Commercial Plates Issued

| | |
| --- | --- |
| 2017-04-01: | MC1001 to MC1009 |

Passenger-Vehicle version in the 'AA0-00A' format

Commercial Truck version in the 'AA-0000' format
For dedicated Plate Spotters, the Memorial Cross base is using the "Mississippi Dies" that Waldale has used on other plate types in Nova Scotia, PEI, Alberta Manitoba (specialty plates) and recently in Ontario.
The only way to obtain these plates is to have previously been a recipient of a Memorial Cross and by contacting the Manager of Provincial Vehicle Registration & Licensing at ICBC (being Mark Francis). It is assumed that ICBC is not expecting there to be many orders for these, hence the need to go through their head office.
There is also to be no charge for requesting these plates and for those who may be eligible but don't have a vehicle, they can request a "Keepsake" plate (which we are assuming will be a Sample as shown above).
Not to be cynical, but it is worth noting that motorcycles are not currently eligible and we wonder if a future Remembrance Day announcement might be in relation to expanding the program to these vehicles?
| | |
| --- | --- |
| | |
Plate Launch - November 10, 2016
For those unfamiliar with the Memorial Cross, it was created in 1919 and is currently granted to the loved ones of Canadian Armed Forces personnel who died in service, or whose death was attributed to their service. It is granted by the Government of Canada and is often referred to as the Silver Cross.
According to Minister Coleman, "in B.C. we have a longstanding and proud military history. With this new commemorative plate, we are honouring the soldiers who have died in service, fighting for our country. Their loved ones can have a keepsake plate for their vehicles or to display at home."
The Commander of the Maritime Forces Pacific, Rear Admiral Art McDonald, was also on-hand and proclaimed the license plate "will be a daily reminder of the sacrifices members of the Canadian Armed Forces and their families make for their country and I welcome this thoughtful initiative as we enter Remembrance Week."
The first plate in the new series was presented to Ron McCully (centre) of Prince George by Minister's Todd Stone (left) and Shirley Bond (right). McCully's son, Corporal Matthew McCully (pictured at top-right), died serving for the Canadian Armed Forces in Afghanistan on May 25, 2007, when an improvised explosive device detonated while he was on a foot patrol west of Kandahar City.
Visible on Ron McCully's left lapel (our right) is his actual Memorial Cross, a version of which is also shown at bottom-right.
Creating the Plate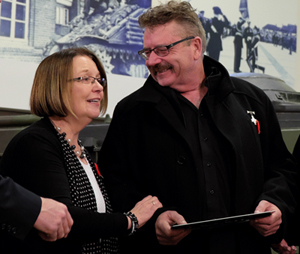 According to Shirley Bond (Minister of Jobs, Tourism and Skills Training), the idea of creating a Memorial Cross plate was put to her by Ron McCully after the death of his son Matthew in Afghanistan. McCully is a resident of Prince George and Bond is the MLA for the riding of Prince George-Valemont.
Bond was "deeply moved by his request and recognized this would be another important and visible demonstration of our gratitude." She then took the request to Minister Stone who was able to see the project successfully implemented.
For Bond, it was "a very special day in our province and I am thankful we could respond in a positive way to this idea. I look forward to working with other Northern Memorial Cross families to obtain their license plates should they choose to have one."
| | |
| --- | --- |
| | |
A Rare Plate Type
Given the sacrifice required of families to qualify for a Memorial Cross plate, we hope these never become a common site on our roads. That said, and as with any plate, we here at BCpl8s.ca are always curious about possible registration number blocs that have been set aside for a plate type.
To help us in this endeavour, we need only look to our southern neighbours in Washington State. The U.S. equivalent of the Memorial Cross is the Gold Star, which is similarly awarded to the family members of their armed forces member who died while in service to his or her country, or as a result of his or her service.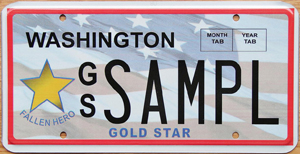 In 2009, Washington State introduced its Gold Star license plates, issuing 25 of them at the unveiling in Olympia. In the intervening six years (to 2014), it is understood that 239 such plates have been issued.
As BC has a population that is 34% less that of Washington State and Canada tends not to get involved in as many deadly foreign conflicts, it is possible that fewer than 100 Memorial Plates could be issued in BC by 2025 - meaning the "MCx-xxR" bloc could last for a
very
long time.
Other Canadian Memorial Cross License Plates
An aside found at the end of the government's official press release announcing the Memorial Cross Recipient plates (a copy of which we have archived for posterity:
Click Here
.) is that Saskatchewan is the only other province to currently be issuing a similar plate. While true, Ontario was also considering the issuance of such a plate in June of 2016.
In case you are curious as to how British Columbia stacks up against our Prairie counterpart, we here at BCpl8s.ca have tracked down some photos of Saskatchewan's entry:
The Saskatchewan plate was released on November 5, 2014, and appears to have set the template BC followed as the plates are free, souvenir's are available and orders must be made through their Manager of Branch Issuing Services.


© Copyright Christopher John Garrish. All rights reserved.