British Columbia Parks License Plates

The BC Parks license plate was released by the province on January 18, 2017, with sales to commence on January 29, 2017, and comprised three different designs intended to promote provincial parks and protected areas in British Columbia.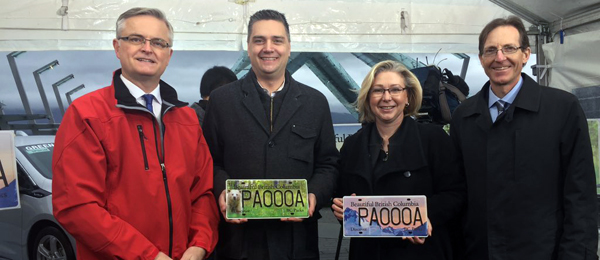 From left to right, Barry Penner (ICBC Chairman), Todd Stone (Minister of Transportation), Mary Polak (Minister of Environment) and an unknown person at the unveiling of the new BC Parks plates at Jack Poole Plaza in Vancouver on January 18, 2017.
Origin Story!
The creation of the BC Parks plate was not a spontaneous event but rather a response to a simmering controversy over the funding of the provincial parks system in British Columbia and, more specifically, a failure by the province to meet demand for campsite during the busy summer holiday season. To read more about this aspect of the plate, just

Click here

!
Plate Types & Background Information
The BC Parks plate came in three different designs representing the "North" of the province (Keremode Bear), the "Interior Region" (Purcell Mountains) and the "South Coast" (Porteau Cove). To read more, just
Click Here!
Milestones
When the Province announced the release of the BC Parks plates, it was estimated that approximately 100,000 sets would be sold over the first five (5) years of the program. Due, however, to pent up demand the plates sold much better than epxected and ICBC announced a series of milestones over the preceeding years:
The Best Plate of 2017?
Every year the Automobile License Plate Collector's Association (ALPCA) holds a survey amongst its membership to determine the most highly regarded design (amongst collectors) issued during that calendar year. In 2017, the BC Parks base was nominated for this award. To see how the voting played out,

Click here

!


The Best Plate of 2017?
Odds-and-Ends
From googly eye stickers on the bear, to funding controveries to disappearing ink and all other odd-ball stories related to the BC Parks plates, just

Click here

!


© Copyright Christopher John Garrish. All rights reserved.