British Columbia Repairer License Plates

First issued in 1974, Repairer plates have always been distinguishable by the word Repairer stamped or screened across the top. In 1979 this was switched to the rather un-inclusive Repairman, a change that was surprisingly unquestioned until the mid-1990s when Repairer was re-instated. Both the 1974 and 1975 plates were issued in the R00-000 format, starting in the R80-000 bracket. In 1976 this was switched to R0-000, R00-000 in 1979, and R0-0000 in 1985.
1974 - 1978

Issuing Statistics

| | |
| --- | --- |
| 1974: | R80-001 to R85-000 |
| 1975: | R80-001 to R90-000 |
| 1976: | R1 to R3-000 |
| 1977: | unknown |
| 1978: | unknown |
Test Plate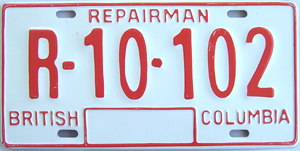 I am not sure what the exact story behind this plate is other than it appears to be a "test plate" produced by the Motor Vehicle Branch prior to release in 1979. The extra dash in the serial is the give-away. Apparently the Branch must have been generally happy with the design as no substantive changes were made.

For the really dry interpretation of the Repairer plate, one merely need look to Section 318.44 (Repairer's Licence) of the Motor Vehicle Act (1996), where it is stated that:
a "repairer's garage" means a place of business primarily designed or used for the purpose of repairing motor vehicles or trailers, but does not include a place of business from which motive fuel, lubricating oil, antifreeze or other similar products, and services incidental to them, are sold or provided except in relation to repairs.
The Insurance Corporation of British Columbia may, on receiving an application in the form the corporation requires, and payment of the prescribed fee, and payment of the insurance fee prescribed under the Insurance (Vehicle) Act, issue to the owner of a repairer's garage a repairer's licence and the number of corresponding number plates that the owner applies for.
A motor vehicle or trailer being driven, operated or towed on a highway by the owner of a repairer's garage, or his or her agent or employee, for the purpose of repairing, testing or rendering a service incidental to the repairing or testing, of the motor vehicle or trailer, and that has attached to it a number plate issued to the owner under subsection (2), is deemed to be sufficiently registered and licensed for the purposes of this Act and the Commercial Transport Act.
1985 - 2013: Flag Graphic

Issuing Statistics

| | |
| --- | --- |
| 1985: | R00-000 to R09-999 |
| 1990: | R10-000 to R10-249 |
| 1991: | R10-250 to R11-049 |
| 1992: | R11-050 to R11-724 |
| 1993: | R11-725 to R12-149 |
| 1994: | R12-150 to R13-149 |


CLICK HERE

1990

1991

1992

1995

1996

1997

1998

1999

2000

2001

2002

2003

2004

2005

2006

2007

2008

2009

2010

2011

2012

2013
---
Sources
Dan Howlett, "Decoding British Columbia License Plates", http://www.kasumirecords.com/bcplates/index.htm (October 28, 2001).
Revised Statutes of British Columbia (1996) Motor Vehicle Act
ALPCA Archives

© Copyright Christopher John Garrish. All rights reserved.