British Columbia Consular License Plates


The Consular Corps in British Columbia is based primarily in Vancouver and is the official body comprising all Consular Officers resident in the Province of British Columbia. Currently the number of countries represented by the Corps in B.C. stands at seventy-one. Consular Officers; who are comprised of Consuls General, Consuls, Vice-Consuls and Consular Agents, represent and promote their country's interests; from assisting nationals, promoting trade, to issuing passports and visas, within the province.
Since 1967, members of the Consular Corps have also had the option of obtaining special CONSUL license plates. At that time, a number of other provinces had already been issuing such plates since the 1950s. Most notably, Ontario and Quebec due to the location of many foreign embassies in and around the national capitol region.
For forty years, British Columbia's Consular plates consisted of the word "CONSUL" stamped as a de facto prefix, followed by three characters. The template used for the 1967 plates, issued to an estimated 70 individuals that year, have changed little over the years. The colours, slogan and validation of CONSUL plates have always remained consistent with those of passenger plates. The three digit suffix was employed from the plate's inception until the late 1990s, when an A00 - A99 format began to be seen. This 1967 issue was also notable as it commenced in the "500 bracket" in order to avoid any squabbles over who had the best number. Accordingly, the first number in this series was 501, with all subsequent plates being issued in sequential order. By the very fact that there are currently CONSUL plates that exist below the 500 suffix indicated that this tradition was not followed in subsequent years.
1967 - 1972

Issuing Statistics

| | |
| --- | --- |
| 1967: | unknown |
| 1968: | unknown |
| 1969: | 501 to 700 |
| 1970: | 501 to 675 |
1973 - 1978

Issuing Statistics

| | |
| --- | --- |
| 1973: | 101 to 500 |
| 1977: | 501 to 600 |
1979 - 1986

Issuing Statistics

| | |
| --- | --- |
| 1979: | 002 to 100 |
| | 601 to 999 |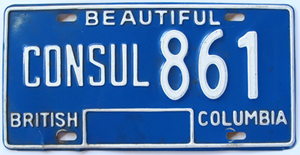 The story associated with this particular plate is that it belonged to the Argentinian representative based out of Vancouver. When Argentina and the United Kingdom went to war over the Faukland Islands in 1982, a directive was apparently sent out from Buenos Aires to all foreign representatives to make themselves as inconspicous as possible. In the case of their fellow in Vancouver, this meant removing the No. 861 "CONSUL" plates from his vehicle, one of which was kept by this fellow while the front plate was given to his neighbour at the time before eventually making its way into the hands of a collector.
1986 - 2001: Flag Graphic

Issuing Statistics

| | |
| --- | --- |
| 1985: | 101 to 500 |
| 1991: | 501 to 999 |
2001 - 2007

Issuing Statistics

2001:


A01 to D99*

* unconfirmed
| | |
| --- | --- |
| | It was understood that all "Flag" Consul plates would be retired following the introduction of the redesigned "Red" plates in 2007. As the photo at left shows (which, incidentally, also shows the highest known number in the series), however, the "Flag" base was still being used as late as 2010. Whether or not this is a valid registration remains a mystery ... |
The "Red" Plate Cometh West
In 2007, and following seven years of discussions with the Department of Foreign Affairs in Ottawa, ICBC introduced a redesigned Consular license plate:
| | |
| --- | --- |
| | |
The "Red" Plate Cometh West
While the responsibility for issuing motor vehicle license plates is provincial, it is known that the Federal Government supports the establishment, implementation, delivery and monitoring of vehicle license plate programs designed specifically for foreign missions, consular posts, international organisations and other offices, and their representatives.
This goal is seen by Ottawa to be tied to Canada's international obligations to ensure the security and proper functioning of foreign missions and consular posts in Canada. For reasons that are not entirely clear to us here at BCpl8s.ca, the Federal Government seems to think that this objective is best met by ensuring consistency across the country in the basic design of Diplomatic license plates, hence the similarities between the redesigned BC Consular plates with the Diplomatic plates from Ontario:.
It became the Government of BC's policy following the introduction of the redesigned plates that foreign States, foreign consular posts, international organizations and other offices, along with foreign representatives and their accredited family members residing in that Province, obtain these special red and white motor vehicles licence plates when registering passenger vehicles, commercial vehicles and motor homes within 30 days of taking-up residence in the province.
When obtaining their red license plates for the first time, a qualified foreign representative must visit the ICBC Autoplan Sales Office in North Vancouver, and return the plates to any Autoplan dealer within 30 days of the conclusion of their posting or appointment. ICBC also charges a reduced annual licence fee of $12 (except in the case of Honorary Consular Officers who pay the regular fee).
Unlike previous Consular license plate series issued by the province, the new red base was divided into five separate categories distinguishable by the two-letter prefix that appears on the plate. This includes:
DL-000A: Diplomat-level Representative

Includes dependents or International Organizations;
CC-000A: Career Consular Officers


Includes level foreign representatives and their dependents or Consular Post where headed by a Career Officer;
HC-000A: Honorary Consular Officers

Includes Canadian citizens, level foreign representatives or a Consular Post where headed by Honorary Consular;
CS-000A: Consular Staff


Includes administrative, technical and service level foreign representatives and their dependents; and
SR-000A: Special Representative


Includes foreign officials and their dependents from Offices of Political Subdivisions of Foreign State and from other Office and for their Offices.

Interestingly, a Canadian citizen residing in British Columbia may be appointed as an Honourary Consular Officer, and should they wish to obtain a special 'HC' plate they would need to obtain a "Letter of Entitlement" from the federal Office of Protocol via the supervising foreign mission. They would then present this letter of entitlement in person at an ICBC office, along with a valid Canadian Passport or a valid British Columbia Driver's Licence. Only one vehicle owned or leased by an Honorary Consular Officer will be eligible to have the special plates — any other vehicle will have to be licensed with a regular British Columbia plate.
The new Consular plates also displayed some minor design modifications, including the deletion of the "Beautiful" slogan; the replacement of the "Spirit of BC Flag" with the fashionable new "Mountain" logo (minus "The Best Place on Earth" slogan - which is not surprising given the potential indignity of requiring representatives of foreign countries to promote such a claim). Similar to the Olympic plates, a divided decal box has also been introduced to make it easier for motorists to figure out where they are suppose to affix their date decals.
The most interesting change - especially in light of the subsequent announcement by ICBC regarding the serial format to be used on passenger plates in 2013 - was the use of a "AA0-00A" serial format. It is not clear if it was intended at the time, but the "AA0-00A" format was effectively trialed on the Consular base for three years before being designated for use on all passenger vehicles as a way to extend the life of the "Flag" base by another 8 million combinations (to read more,
Click here
).
ABOVE: Attached to a Kia, one can only assume that this vehicle belongs to a Career Consular Officer from South Korea.

AT RIGHT: Seymour Street in Vancouver near the Greek and German Consulates with a parking sign restricting the on-street parking to vehicles belonging to staff working for these Consulates (such as the vehicle shown).

No Special Privelages!




Vehicles in New York City sporting Consul plates (generally associated with UN staff) and illegally parked were known to have their tires slashed on a regular basis.


In this instance, someone with an Honorary Consular plate (possibly a Canadian?) attempted to save a few dollars by parking illegally in an alley near the PNE in 2019.


So there was no mistaking their intention, they left a hand written note on the dash advising; "Consular plates do not ticket".


Fair goers who, we assume, did pay for parking obliged by placing garbage on the car instead.

---
Sources
Province of British Columbia, Consular Corps, http://www.protocol.gov.bc.ca/protocol/prgs/consular/consular.htm, (October 28, 2001)
Dan Howlett, "Decoding British Columbia License Plates", http://www.kasumirecords.com/bcplates/index.htm (Ocotber 29, 2001)
Vancouver Province Newspaper
Victoria Colonist Newspaper

© Copyright Christopher John Garrish. All rights reserved.