British Columbia Farm Tractor License Plates

Traditionally, agriculture has been one of the more important sector's in British Columbia's economy, behind only forestry and mining. The nature of agriculture in the province has also been dominated by the small-scale producer who, during and after WWII, became increasingly reliant on mechanization - including tractors and trucks.
The first "F" plates associated with farm tractors commenced in 1948 following an amendment to the Motor Vehicle Act that came into effect on April 3, 1947. Previously, the "F" prefix had been associated with over-run passenger vehicle plates issued out of the MVB's New Westminster office between 1940 and 1947.
It had actually been intended to have "special number plates" available in 1947, however, the legislative change occurred to late in the licence year for such plates to be manufactured at Oakalla.
Issuing officers were thus instructed to issue standard commercial "C" license plates but to account for these by marking "Farm Tractors" on a blank line that appeared under the "Commercial Motor-vehicles" section of the registration application form.
As a result of this decision, the Superintendent of Motor-Vehicles would be reqired in subsequent years to remind officials that Farm Tractors were to be issued "F" plates and not the "ordinary commercial licence plates".
| | |
| --- | --- |
| | The plate at left could be an example of an original issue 1947 "Farm Tractor" plate on the "C" (Commercial) base on the basis that this plate was issued out of the Vernon MVB Office and the Okanagan Valley, as a major fruit producing area of the province would receive a 1/5 of all 1948 "F" plates the following year - reflecting the preponderance of such vehicles in the Valley. |
1948
The 1947 amendments to the Act defined a Farm Tractor as follows:

(A)

Farm tractors used as implements of husbandry, on a highway immediately adjacent to the owner's farm, for the purposes of proceeding from one place on the farm to another on the same farm, or for the towing implements of husbandry or trailers carrying farm produce or stock, fertilizer, tools, seed, etc., from one place on a farm to another place on the same farm do not require to be license but a person driving the same must not be under the age of fifteen years.

(B)

For farm tractors owned by a bona-fide farmer and use for towing a trailer for the purpose of transporting thereon the produce of his own farm to market and of transporting supplies for his own farm from market, a nominal licence fee of $5.00 is required, and persons driving the same must be fully licensed as a driver of a motor-vehicle.

(C)

Farm tractors used for other than as stated in (A) and (B) above, must be fully licensed and the driver of same must also be fully licensed.
1949 - 1951

Issuing Statistics

| | |
| --- | --- |
| 1949: | F1 to F1700 |
| 1950: | F1 to F1700 |
| 1951: | F1 to F2000 |
1952: "Totem" Base
1953-1954

Issuing Statistics

| | |
| --- | --- |
| 1953: | F1 to F2500 |
| 1954: | F1 to F3000 |
1955-1963

Issuing Statistics

| | |
| --- | --- |
| 1955: | F1 to F4000 |
| 1956: | unknown |
| 1957: | unknown |
| 1958: | unknown |
| 1959: | unknown |
| 1960: | unknown |
| 1961: | unknown |
| 1962: | unknown |
| 1963: | unknown |
In one of those quirks of the manufacturing process, a small bloc of 1959 plates were produced with the passenger base that had been pre-stamped with two extra slot holes in case the need for renewal tabs arose (which it never did). The middle plate (No. F3-099) shows these extra holes at the bottom right-hand corner.
In 1961, the province created a new type of plate for Farm Trucks utilising an 'A' prefix. Henceforward, the 'F' prefix would be associated solely with Farm Tractors:
| | |
| --- | --- |
| Farm Tractor license plate | Farm Truck license plate |
To visit the page related to "Farm Truck" plates,
Click here
.
Following the introduction of the Farm Truck plate type, a slow but steady decline in the number of Farm Tractor plates being produced can be seen in the issuing statistics - with a high of 6,700 plates being manufactured in 1964 to a low 3,200 plates in 1973 (the last year for which an annual plate was issued.
1964-1971: "Beautiful" Slogan

Issuing Statistics

| | |
| --- | --- |
| 1964: | F1 to F6-700 |
| 1965: | F1 to F4-775 |
| 1966: | F1 to F5-000 |
| 1967: | F1 to F4-400 |
| 1968: | F1 to F4-300 |
| 1969: | F1 to F4-000 |
| 1970: | F1 to F3-700 |
| 1971: | F1 to F3-500 |
1972-1973

Issuing Statistics

| | |
| --- | --- |
| 1972: | F10-001 to F13-600 |
| 1973: | F10-001 to F13-200 |
1974 Base: (1974-78)
1975 Base: (1975-78)
1976 Base: (1976-78)
Despite 6,000 plates being manufactured for the 1979 issuance, few of these were issued, making the plate rather difficult to come by.
When the Flag base was introduced in 1985, the numbering of the Farm Tractor serial continued where the 1979 base had left off (i.e. at F66-000). Next to the Manufacturer base, the Farm Tractor plate is one of the rarest and hardest to find plate types on the road with the only confirmation of their continued existence coming from the semi-regular
Licence Plate Identification Guide
put out by ICBC (which still lists this as a valid plate type with an Allocation Code number of RS007).
1986 - present: Flag Graphic
One of the reasons the 'F' plates are so uncommon may reside within the requirements of the Motor Vehicle Act. Specifically, Section 8 (Licences for farm tractors) of the Act states that ICBC may issue a licence and number plates for a farm tractor owned by a farmer if the tractor is used for:
| | |
| --- | --- |
| (a) | towing a trailer to transport the produce of the farmer's own farm to market and to transport supplies for that farm, or |
| (b) | towing an implement of husbandry used by or on behalf of the farmer. |
Living in an agricultural area of the province, we here at BCpl8s.ca know of no farmers who are properly licenced when driving their tractors on the road.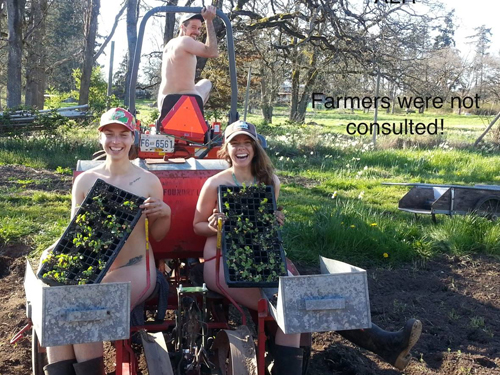 A rare spotting of an 'F' plate out in the wild! I can't recall what these earnest young folks are protesting (something to do with the ALR I suspect), but our eyes here at BCpl8s.ca were immediately drawn to the plate on their tractor - what else would we be looking at? It is interesting to note the low number on the plate. This would have been the 561st plate issued, and for all we know this could as easily have happened in the Aught's or the 80's (the registration decal is 2011).
| | |
| --- | --- |
| | The latest spotting of an "F" prefix (2020) has revealed that the bloc of plates made by Astropgraphic in 1985 has either been 1) finally exhausted, or 2) discarded due to age and detoriation and that plates beyond "F7-0999" are now being issued with Waldale dies. As an aside, we would really like to see ICBC prohibit license plate frames as they obscure important information on a plate (such as the jurisdiction) and are plain gaudy! |

© Copyright Christopher John Garrish. All rights reserved.