British Columbia Passenger License Plates
2001 - 2014



In 1995, the Insurance Corporation of British Columbia (ICBC) began to turn its attention to what would happen when the last plate in the "Spirit Flag" series, being plate No. KXK-999, was issued.
ICBC assumed that this was due to occur "in the first quarter of 1997" and before the Corporation had a chance to implement its new computerized insurance system being created by IBM; the "Next Generation Insurance System" (NGIS).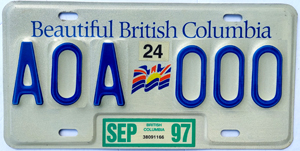 As an interim step, it decided that a short-term solution needed to be found and decided to recommend in favour of a A0A-000 license plate format (the example shown at right has been digitally altered)!
Recognizing the odd nature of this format, ICBC estimated that a public education campaign would be required, but that overall the cost to introduce it would be around $87,000 (including required systems changes) and that an A0A-000 format would provide a further 8-year supply of license plates.
Switching to a 000-AAA format, which had many benefits, including being easy to understand, providing a 15-year of supply of plates and having already been implemented by other provinces (Ontario and Manitoba), the estimated cost of $600,000, most of which was tied to significant "programming effort" that would have to be undertaken, was scaring ICBC off. For posterity, we have archived an MVB Memo related to these changes Here!
In the end, the "Next Generation Insurance System" (NGIS) was abandoned in 1997, deemed an "IT failure" that ultimately required ICBC to write-off $55,700,000 as a loss on the project!
If there was a silver lining, it was that parts of the NGIS could be salvaged and incorporated into ICBC's existing computer systems. In addition, the Corporation grossly miscalculated how many combinations in the AAA-000 format remained - 2,000,000+ in 1997 to be precise - which gave ICBC until mid-2001 before a new serial format would be needed.

Together, this allowed ICBC to announce, on June 18, 2001, what always should have been the next natural step; to flip the serial and begin issuing plates at 000-AAA:
B.C. drivers may soon notice a change in the letter/number configurations on passenger vehicle licence plates. Earlier this spring ICBC began issuing passenger licence plates beginning with three numbers, followed by three letters instead of the usual three letter/three number format. The reason for the change is simple: ICBC has run out of three letter/three number combinations.

ICBC considered the option of re-issuing previously assigned, terminated licence plate numbers but decided to continue its "one person/one time" policy for assigning licence plate numbers. This avoids potential duplication of licence plate numbers, ensuring the correct vehicle and vehicle owner come up on police computer screens during roadside stops and also minimizing the possibility of error when municipal by-law officers issue parking tickets.

Commercial, motorcycle and personalized (vanity) vehicle plates are not affected by the change.
Less certain, was if the Social Credit Party "Spirit Flag" logo, which had originally been projected to be used for only 6-7 years (i.e. to 1991 or 1992) would continue to grace the middle of license plates. It would.
The one important break with tradition, however, was that rather starting to 001-LAA the new series would start at a more logical number; 001-AAA.
1st bloc of one million plates: The End of Astrographic Dies

Issuing Statistics

* each bloc represents approximately 1,000,000 sets of license plates
The Waldale Juggernaut comes to BC
After supplying the province with license plates for almost twenty years, Astrographics Limited of Surrey, B.C. lost a low-bid competition to Waldale Manufacturing Limited of Amherst, Nova Scotia as of November 2002:
The initial Waldale contract ran to 2007 and was subsequently renewed through 2013. Waldale now manufactured all types British Columbia plates, with the transition from Astrographics to Waldale dies on passenger plates officially beginning between 999-HFK and 000-HGA.
There are, however, exceptions to this change over date as Waldale dies have been spotted on plates in the 000-HFE range, and Astrographics dies have been reported in the 000-JFG to 500-JFK range.
Waldale was originally known as Canadian Assembly and got its start in the license plate business back in the late 1940s when it won a contract to produce plates for Nova Scotia. From their, it branched out by slowly winning the contracts to produce plates for the other Maratime provinces. In the 1960s it changed its name to Waldale and in the 1990s began to go like stink through forays into the United States and picking up contracts for places such as New Mexico and Delaware.
They sure don't make license plates like they used to!
Above are some rare shots of inside the Waldale production facility with some plates for New Brunswick being run through the thingamabob at the end.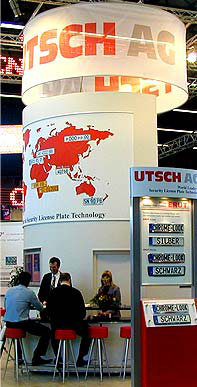 As part of this broader trend in the consolidation of license plate manufacturing in only a few firms, Waldale was acquired by the "German King of License Plates", being the Siegen firm Utsch AG in March of 2005.
Utsch had earlier acquired the Irwin-Hodson firm of Oregon in 2003 and before that George Industries of Australia and now dominates the market for privately manufactured (i.e. not prison made) license plates in North America and around the world.
In 2011, Utsch celebrated its 50th anniversary by clearing 250 million Euros making plates for more than 130 countries. As the story goes, in 1961, Erich Utsch with his wife and eight children, founded what was then purely a family business. Looking back, Manfred Utsch, the owner and Chairman of the Board (bottom-right), has said, "My father, a master shoemaker, started with a converted wine press."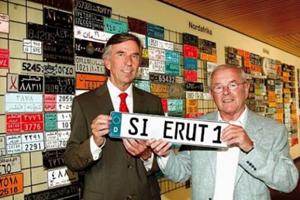 Today, UTSCH AG offers its clients - primarily government agencies - everything which involves the development and manufacture of automobile license plates, from production of non-North American license plates in Siegen to on-site customer and country-specific system solutions, in addition to service on a world-wide basis.
1st bloc of one million plates: Waldale Dies

Issuing Statistics

000-HGA to 999-KKJ

* each bloc represents approximately 1,000,000 sets of license plates
2nd bloc of one million plates

Issuing Statistics

000-AAL to 999-KKX

* each bloc represents approximately 1,000,000 sets of license plates
Say what you will about the quality of the Astrographics plates that characterise the first run of the Flag Graphic base (i.e. AAA-000), at least that company could be counted upon to manufacture and, along with ICBC, release the series in a predictable and sequential order.
The advent of Waldale, however, has seen the conventional issuing order completely disregarded for the second run of the Flag Graphic (i.e. 000-AAA), and this has proven to be a very disorientating ordeal for us ardent plate spotters.
When the Flag Graphic series was flipped in June 2001, the decision was made to start with the letters "AAA" as opposed to "LAA", and, for the first two million plates, things progressed as one would expect:
PROJECTED

ACTUAL

| | |
| --- | --- |
| Bloc No. | Serial Range |
| 1 | 000-AAA to 999-KKJ |
| 2 | 000-AAL to 999-KKX |
| 3 | |
| 4 | 000-ALA to 999-KXK |
| 5 | |
| 6 | 000-LAL to 999-XKX |
| 7 | 000-LLA to 999-XXK |
| 8 | 000-LLL to 999-XXW |

| | |
| --- | --- |
| Bloc No. | Serial Range |
| 1 | 000-AAA to 999-KKJ |
| 2 | 000-AAL to 999-KKX |
| 3 | 000-ALA to 999-KXK |
| 4 | |
| 5 | 000-LAL to 999-XKX |
| 6 | |
| 7 | 000-LLA to 999-XXK |
| 8 | 000-LLL to 999-XXW |
However, in 2005, when the second bloc was exhausted, ICBC threw a curve ball and reversed the third and fourth blocs by issuing plates in the "ALA" range prior to the "ALL" range.
Following the completion of the "ALL" plates in 2008, ICBC did it again by issuing plates from the eighth bloc (i.e. "LAL"), but quickly corrected this by reverting back to plates in the "LAA" range.
It is not surprising that the Corporation is burning through plate series faster now than in the 1980s or 1990s given the increase in motor vehicles on BC roads. At this rate, we new base plate will be required no later than 2014, although the current "economic crisis" and associated plunge in new car sales being experienced in 2009 might buy the Corporation a little extra time.
3rd bloc of one million plates

Issuing Statistics

000-ALA to 999-KXK

* each bloc represents approximately 1,000,000 sets of license plates
4th bloc of one million plates

Issuing Statistics

000-ALL to 999-KXX

* each bloc represents approximately 1,000,000 sets of license plates

'F'
It wasn't that long ago that the next plate issued by an Autoplan agent after the number 399- would start with the number '4' (such as the plates above). Well, those days are over apparently over. It seems that the Corporation was having a lot of problems with plates beginning with the number '4' not being issued in proper sequence in communities with a large Chinese demographic due to the number '4' in Chinese (四 [sì]) sounding very similar to the word for "death" (死 亡 [sĭwáng]).
The official response from ICBC to our query (confirmed in November of 2014) was as follows:
400 – 499 series plates for any plate combinations for the new passenger plates have been excluded from production. The reason for the exclusion is because, in Asian culture, the number '4' represents death and we have had major issues with brokers issuing this plate sequence out. We excluded the 400 series from our plate manufacturing years ago.
This last part of the statement about the 400 bloc having been excluded years ago piqued our interest and spurred our in-house statistician to crunch some numbers. The result; this change probably happened around 2007 (or 2008 at the latest) when plates in the 000-CLL to 999-CXX bloc were being issued (such as the standard plates pictured above left).
This would explain an apparent jump in the number of plates being issued on an annual basis from 558,000 to 601,000 at that time despite the onset of the Great Recession and spike in oil prices which should have driven down the annual number of plates being issued. Further, it does not appear to have been applied to the Olympic base which was released around this time and is known to have been issued with the 400 bloc (such as the plate shown above right).
Also of interest, this policy only seems to have been extended to passenger plates as Commercial Truck plates have been confirmed with the third character being in the 4000 block (i.e. HJ-4509 in January of 2014).
5th bloc of one million plates

'M'
[see Olympic bloc below]

Issuing Statistics

000-LAA to 999-XKK

* each bloc represents approximately 1,000,000 sets of license plates

'V'
6th bloc of one million plates

'M'
[see Olympic bloc below]

'P'

Issuing Statistics

000-LAL to 999-XKX

* each bloc represents approximately 1,000,000 sets of license plates

'V'
Starting in January 2011, BC passenger and truck plates began to display holographic images, or what is known in the industry as "virtual security threads". These holograms allow the supplier, 3M, to identify the year and batch of material that the particular sheeting was produced from.
Thanks to the good work of our friends over at
DCplates.net
, we know that the product name of this threading is "Ensure", while the 3M site advises that these threads "consists of a circular security and warranty image that repeats and runs vertically through the centre of the license plate. It is visible only when viewed head-on at about a 30 degree angle to horizontal. It 'disappears' from view at other angles."
The more interesting aspect of these holograms is the code which, when deciphered, can actually reveal a few interesting details about a plate. The first character represents the facility at which the sheeting was manufactured; the second character indicates the last digit of the year in which the sheeting was made (and spells out the word "COMPLAINTS"); the third character indicates the month (and spells out the word "STENOGRAPHIC"); while the last character indicates the week of the month. This system has a natural cycle of ten years before it resets:
First Character

Letter

Facility

B

Brownwood,
Texas


Second Character

Letter

Year

C

1

O

2

M

3

P

4

L

5

A

6

I

7

N

8

T

9

S

0

Third Character

Letter

Month

S

Jan.

T

Feb.

E

March

N

April

O

May

G

June

R

July

A

Aug.

P

Sept.

H

Oct.

I

Nov.

C

Dec.

Fourth Character

Letter

Week

1

1st

2

2nd

3

3rd

4

4th

5

5th

The image at top is a generic example of the "virtual security thread" running through the middle of a license plate.
The image at bottom is of the "thread" on an actual BC plate incorporating the "BC Mark" (i.e. mountain range & rising sun).
With this information, we are able to figure out that the sheeting used on the BC plate shown above was manufactured at the 3M facility in Brownwood, Texas in the first week of February, 2010 - or almost a full 12 months before it was issued.
This is a rather momentous change for people who collect BC plates as it will potentially allow for a more accurate identification of when a plate was issued (which at the moment appears to be approximately a year after the sheeting is manufactured, but we will likely be able to refine this over the coming years). For purists, it will now be easier to determine who is re-decal'ing old plates to make them potentially more attractive for resale or trade.
3M promotes the use of these holograms as a way to thwart counterfeiters, who are seen to be "a threat to public safety ... [and] rather than stealing a plate, sophisticated criminals will go to the added effort of creating a counterfeit because there is a much lower risk of detection" (right!). Rather, it would seem to us that these holograms are more of a quality control measure that allow 3M to track the durability of materials over time. Take the examples shown below, which are representative of sheeting issues which affected plates across North America in the mid-Aughts:
| | |
| --- | --- |
| | |
| This particular plate would have been issued sometime between 2003 and 2005 (and judging by the base decal it was likely 2003) and appears to be showing signs of premature wear-and-tear. Note the protective sheeting is starting bubble and disintegrate. While this may be specific to this particular plate as a result of something done by the vehicle owner, it could also be symptomatic of problems with 3M's sheeting. Should this happen again, the threads might be able to cast light on the reasons. | Another example of a plate in which something has happened to the sheeting applied as part of the manufacturing process. It is not clear what the discolouration is a result of? Possibly over-exposure to a wet environment ... |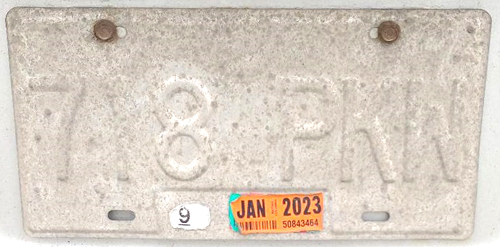 We present the Peeled License Plate GOAT (Greatest of all time)!
7th bloc of one million plates

'M'
[see Olympic bloc below]

Issuing Statistics

000-LLA to 999-XXK

* each bloc represents approximately 1,000,000 sets of license plates

'V'

'X'
8th bloc of one million plates

'M'
[see Olympic bloc below]

Issuing Statistics

000-LLL to 999-XXX

* each bloc represents approximately 1,000,000 sets of license plates

'S'

'V'
Following a slow-roll out on other non-passenger bases, as of 2013-04-27 passenger plates began to also display dual-decal wells. Observed spottings of the dual-decal wells have narrowed the changeover point to somewhere between 891-NWT and 003-NWW.
Thanks to the security thread now being used on these plates, we know that they were likely manufactured in September of 2012, which corresponds to the time of year that ICBC places its annual order with Waldale Manufacturing.
Logically, one could not be faulted for thinking that the issuance of plate No. 999-XXX would represent the end of the current 000-AAA format. However, due to an odd quirk related to the 2010 Winter Olympic Games, the end of the 000-AAA format will actually be marked with the issuance of plate No. 999-MXX as ICBC is prolonging the series by issuing the unused allocation left from the Olympic passenger bloc (which saw plates from 000-MAA through 999-MXX set aside in 2007).
Consequently, while predictions that plate No. 999-XXX would be issued in mid-April of 2014 proved accurate, plates from the 000-MJG through 999-MXX bloc began appearing shortly thereafter:
Leftover bloc of Olympic plates

Issuing Statistics

000-MJG to 999-MXX
* each bloc represents approximately 1,000,000 sets of license plates
Grassroots Protests

One assumes that this particular motorist prefers "The Best Place on Earth" slogan over the very dated "Beautiful British Columbia", but in the process of coming up with this political statement have probably put themselves afoul of the Motor Vehicle Act as the license plate no longer displays the jurisdiction of registration (but does include both government logos, so it shouldn't be too hard for a police officer to figure it out).

Conscious act of subversion or something else? Given how easy ICBC has made it to find the proper location to place the decals on a plate, we can only assume that this motorist is objecting to this rigid requirement to conform!
Busted!

A couple of great photos were posted by the Delta Police Force on their Facebook page (2015-08-20) showing some crude attempts to alter a license plate and decal to evade insurance fees (one assumes):

At left, the culprit applied some white paint to try and turn the 'R' into a 'P' (x2) and at right apparently this motorists "friends" played a prank on him by trying to change his insurance expiry date to December 18, 2015, when it had otherwise expired on July 8, 2015. Nice try fellows!
The images below are from the Vancouver Police Department and show another inventive way that fraudsters attempt to get away without registration and insurance and why ICBC frowns on the use of license plate covers (using one is a ticketable offence):
In the image at left appears to be a normal license plate. However, when the cover is removed (at centre) it becomes apparent something is not quite right. At right it can be seen that a colour copy of a plate (thankfully not one used on BCpl8s.ca - this time!) has been used to get away without paying insurance and registration.
As hinted at above, we here are BCpl8s.ca have been burned by scammers in the past using plates from the site for nefarious purposes. In the image below, someone printed a plate on 8.5 x 11 paper and fixed it to the back of their work truck (clearly not someone I would want work on my property!). The plate was scanned by a parking lot operator and a ticket issued for parking in a reserved space. Amazingly, the person issuing the ticket - who must spend their whole day looking at plates - could not tell that this was a faker:

© Copyright Christopher John Garrish. All rights reserved.