British Columbia Passenger License Plates
1964 - 1969

1964 Die Variations

For eagle eyed plate collectors, the introduction of the "Beautiful" slogan was not the only new addition to the plates that year. For whatever reason, it had been decided to go with a smaller die for the provincial name ("BRITISH COLUMBIA"). Even more interesting is that the old, longer "BRITISH COLUMBIA" die used as early as possibly 1952, but certainly from 1955 through to 1963 would re-appear throughout the 1964 series - and there is no rhyme nor reason to its use. Don't believe me? Take a look at the No. 58-000 plates shown above. This is one of the only known examples of where the different dies appeared on the same plate number.
| | |
| --- | --- |
| | Palindrome: "a word, phrase, or sequence that reads the same backward as forward" - and also a fun subset of license plate collecting for the truly dedicated. |
| | |
| --- | --- |
| | Generally, over-run plates are not of much interests to collectors, however, in the case of the 1967 over-run bloc, Oakalla used the 1968 base (which was already in production by the time the extra plates were needed). As a result, plates numbered 700-001 to 720-000 (or 2.86% of all passenger plates for the year) come with the "19" date stamp in the top-left corner. |
1967 also marked the Centennial Anniversary of the formation of the Canadian State. Some province's opted to commemorate the occasion with a special issue license plate, bearing slogans not usually associated with their regular passenger plate. Quebec, for instance, replaced its La Belle Province slogan with Confederation, book-ended by 1867-1967 (on the rear plate). While other provinces such as Manitoba and Prince Edward Island issued special booster plates.

British Columbia's contribution proved to be a little subtler. No special slogans were adopted, nor was any reference made to 1867 as Alberta, Ontario and Quebec done. Rather, B.C. altered its policy of alternating blue and white colour schemes for one year. In honour of the Centennial, regular issue license plates in 1967 would be the national colours of red-on-white. Otherwise, the design remained unchanged. The Beautiful British Columbia slogan was retained, as was the '67 date stamp in the top right corner.
| | |
| --- | --- |
| | 15 years in the making the Lindner 100 (that is Tom at left) is a run of BC plates starting at the No 1 and proceeding straight through to the No. 100. With the run now complete (as of 2015), the focus is switching to having as many of the plates be from 1967 as possible. |
A Genuine License Plate Photo Happistance

At left is a photo of the 1968 BC license plate No. 1212 on the vehicle it was issued to, which was a police vehicle that, in this instance, happened to be in for servicing at the Ladner Police Depot in 1968.

At right is a photo of (from left to right) John Royle, Len Garrison and Gordon Kapeleus (Len's son is in front) believed to have been taken in 1972 or 1973 in Tsawwassen (next door to Ladner). As can be seen, John is holding the 1968 BC license plate No. 1212!

It is very rare to find random, un-related photos of the same plate at different periods of time (exceptions being when the plate has been held by the family it was issued to). It is also interesting to see a "special request" plate (i.e. a plate with a number between 1 and 3,000) issued to a government vehicle as opposed to a member of the general public.
| | |
| --- | --- |
| This is one way to put excess BC plates from the 1950s through to the 1970s to good use. I would think these plates added decades to the life of this shed. | |
* * * * *
In 1957, the Plate Shop at Oakalla had become the manufacturer of license plates for the Yukon Territory and, as a result of this business relationship, correspondence between the Territory and the Plate Shop has survived and presents an interesting insight into the manufacture of license plates at a public facility staffed by prison labour in the 1960s.
As can be seen in these two plates, the new dies used by the Plate Shop at Oakalla to produce British Columbia license plates starting in 1955 were the same dies used to produce license plates for the Yukon starting in 1958.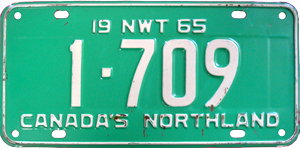 As was the practice at this time, State's and Province's would exchange samples of their license plates each January in order that they had an example - for law enforcement purposes - of what that jurisdictions plate design would be for the coming year. In early 1965, the Yukon's Registrar of Motor Vehicles, H.J. Taylor, received a sample of the Northwest Territories plate for that year, which they concluded had been manufactured by Western Tool & Industries Limited of Manitoba.
As good neighbours, Taylor took it upon himself to write to the Ministry of Northern Affairs in Ottawa advising that they had been ordering their license plates through Oakalla for the past eight years and, at a cost of 40¢/pair, that this represented a considerable saving over what it had previously cost the Yukon to have the plates manufactured by a private firm and that possibly the NWT Government "would be interested in considering the same sort of arrangement."
Needless to say, when Taylor found out that the NWT was only paying 26¢/pair and 13.5¢ for a single plate, he was "quite surprised". While Taylor would query Oakalla if "it is possible that you miscalculated somewhere in calculating your costs and is it possible that you might review the matter and give us some reduction in the cost?", he also contacted the Alberta Supervisor of Vehicles to determine what they were paying per license plate.
In response, the Business Manager of the Oakalla Plate Shop, J.D. Gibbs, advised that the cost of producing pairs of 1966 plates had been as follows:
| | |
| --- | --- |
| Base metal per sq. ft. | .2190 |
| Repair modification & replacement of dies | .0198 |
| Packaging | .0056 |
| Thinners, paints & chemicals | .0072 |
| Utilities | .0049 |
| Plant maintenance, lubrication, rags, conveyors, wire, etc. | .0021 |
| | .2586¢ |
Moreover, Gibbs advised that "in an operation such as ours it is extremely difficult to cost the labour. Based on the Dominion Bureau of Statistics the average production cost ratio for labour on any mass produced item is 54%. Obviously we cannot apply this here and, therefore, have established a surcharge for production of 30%. This brings the cost of 1 pair of licence plates to .33618¢. Obviously, this surcharge can be disputed since the productivity of inmates is naturally not what it would be in the labour market. However, when you add the cost of maintaining some 42 inmates and 6 staff with the interim costs of maintenance staffs and divide it by our total production, 30% is less than the figure that would result. Obviously in an operation such as ours we are not endeavouring to make money but to provide programme for inmates and to develop good work habits."
"If we relate the above cost to that of the Northwest Territories plates, there is an obvious variance which I can only assume must be in the cost of steel. I am familiar with the licence plates and the manufacturer who produced for the Northwest Territories and am aware they are paying slightly under .14¢ per sq. ft for steel. The steel, however, is not of the same grade that we have employed here nor does it have the galvanized coating and subsequent application of the exceptionally hard Duracron Acrylic Enamel. You will recall, I believe, some two years ago I stated the material we would be employing would be satisfactory for a multiple year licence plate for up to 5 years duration. We are using this at present and it has been employed on the plates you have ordered for next year. In the following year, however, we will be employing a one year material, for the Centennial year only, which will undoubtedly reduce the costs somewhat, in that the more expensive type of paint will not be used. Summarizing, therefore, it would appear that we should be charging .33¢ a pair for the larger plates and .30¢ for the smaller plates per pair. Since the steel for use in the 1966 production year and subsequent issue in 1967 is now out to tender, we should have steel costs in the near future. When received your price can be altered by an variation in the price per square foot."
As it turns out, Alberta was paying the Provincial Jail at Fort Saskatchewan, Alberta (through the Department of the Attorney General) 20¢ per pair of license plates and 10¢ per single plate. Taylor would explore the possibility of transferring their order to Alberta but were subsequently advised that "at the time the manufacturing plant was installed at Fort Saskatchewan, it was decided specifically that such plant would be used exclusively for the manufacture of license plates for this Province ... [and] would not be used for other work which might be readily handled by private manufacturers."
In early 1966, Oakalla wrote the Yukon Government advising that, "on the assumption that you will be submitting your purchase order for the manufacture of your 1967 Licence Plates, we have purchased sufficient metal to cover your order ... and would appreciate some assurance from you that you will be favouring us with your order." Taylor would wait over four months before advising Oakalla that they would be receiving a purchase order for the 1966 plates "in the not too distant future".

© Copyright Christopher John Garrish. All rights reserved.