British Columbia Passenger License Plates
1940-1948

The period between 1931 and 1976 is considered to be the "Prison Era" when BC plates were manufactured by inmates at Oakalla Prison in Burnaby.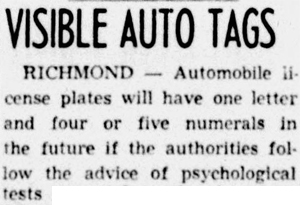 In January of 1939, Adelbert Ford and George Derr of Lehigh University in Pennsylvania presented a paper entitled "The recognition of automobile license plates with mixed numerals and letters" to the American Association for the Advancement of Science.
The professors, using 154 local college students as testers, had found that license plates that included a letter and did not exceed five characters - such as "A1234" - were the most recognizable and easier to remember than were license plates comprised exclusively of numbers or letters (e.g. "12-345" or "AB-CDE").
The purpose of the professors experiment was "to help state officials pick a form of license plate most quickly identified by police or eye-witnesses at accidents."
While it is not known if staff at the Provincial Police's motor vehicle office ever received a copy of Ford and Derr's article, the professor's findings were reported on by the local Victoria press at the time that a decision regarding the form of the 1940 license plates would have been occurring.
As registered vehicles had exceeded 94,000 in 1938 and were anticipated to go as high as 99,999 in 1939, something needed to change for 1940 if the province was going to continue using the smaller, streamlined and economical plates introduced in 1936. The province also had experience issuing such "prefix" plates for Commercial ("C") and Dealer ("D") vehicles as well as an assortment of minor plate types.
1940

Issuing Statistics

Initial Series:


1 to 90-000

Registered:


101,452

Over-run:


19,000*

Issued:


Pairs

Manufacturer:


Oakalla Prison

Dimensions:


290 mm x 137 mm

Material:


Metal

Comments: Although 'A', 'B' and 'F' prefixes are known to have been issued, it is not clear if these were based on a geographic location as would occur in subsequent years.
It is also unknown if prefix plates were only issued in blocks of 3,000 (i.e. 'A-1' to 'A2-999').

* Estimate / Unconfirmed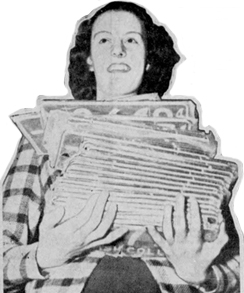 When the 1940 colours were announced, they were to be the reverse of the 1939 plates with yellow letters and numbers on a black base.
Motor Vehicle Branch (MVB) records indicate that the initial order to Oakalla for the year was only for 90,000 sets of license plates - despite the 1939 order being for 99,999 sets.
With registrations eventually exceeding 100,000 in 1940, additional plates were ordered and, based on surviving examples,it is known that single letter prefixes - as favoured by Ford and Derr - were added to the plates.

What is not known is if these letters - 'A', 'B' & 'F' - were geographically based or simply late issues. An October 1940 column in the Vancouver Sun suggests that they were late issues and provided to various offices as required with 'F' appearing on Vancouver streets at that time.


1940 - Gallery
At left, the official opening of the Big Bend Highway (at the Boat Encampment Bridge) in 1940.
At right is Premier Duff Pattullo exiting his official car with the No. 1 license plate for 1940 (the same one as shown above)!

1941

Issuing Statistics

Initial Series:


1 to 91,000

Registered:


105,410

Over-run:


16,000*

Issued:


Pairs

Manufacturer:


Oakalla Prison

Dimensions:


290 mm x 137 mm

Material:


Metal

Comments:
'A' prefix: Vancouver Island;
'B' prefix: Vancouver; and
'F' prefix: New Westminster.
It is not clear if prefix plates were only issued in blocks of 2,000 (i.e. 'A-1' to 'A1-999').

* Estimate / Unconfirmed

On October 24, 1940, it was announced that the colour of the 1941 license plates would be blue figures on a white background.
Formalizing the use of letter prefixes that had occurred at the end of 1940,George Hood, Inspector of the Provincial Police's Traffic Division, announced that cars being registered in Victoria & Island would receive plates starting with 'A', Vancouver cars would receive 'B' and New Westminster would receive 'F'.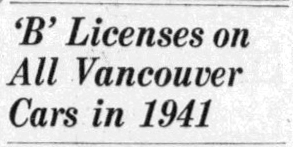 It was further stated that "the fast growth in motor traffic led to adoption of the letter series as a means of reducing actual figures in the license number; also to segregate drivers roughly into different areas ..."
This of course, was not entirely accurate, as Victoria still received the first block of plates from the series between No. 1 to No. 16-000, while Vancouver received 31,000 all-numeric plates (No. 60-056 to No. 90-000) and New Westminster received 11,000 all-numeric plates (No. 49-056 to No. 60-055).The letter series plates were only to be issued as over-run once the all-numeric plates had been issued.

1941 - Gallery
For its 1940 and 1941 license plates (each of which expired on March 31st of the following year) Alberta introduced a "Drive Safely" slogan onto its license plates. While we don't kow the reasons for the slogan, we suspect it was related to the annual carnage associated with automobile accidents:
With travel by Alberta motorists to British Columbia, the slogan eventually caught the eye of the Greater Vancouver Traffic and Safety Council, who resolved in June of 1941 to ask the provincial government to include the same words, "Drive Safely" on the 1942 British Columbia license plates.
George Hood, Inspector with the Motor Vehicle Branch (MVB) of the Provincial Police was tasked with responding to the Council and advised that "to accommodate a slogan [the] size of plates would have to be increased" and due to metal restrictions associated with the national war effort (see below) this was not possible. Thus kiboshing yet another attempt to get a slogan on BC license plates.


As motorists began to switch out their 1940 license plates for 1941 plates, some of the first scrap metal drives in the province to support the War Effort began to be organized.
Imperial Oil set-up collection bins at its gas stations throughout the province and motorists encouraged to bring their old plates to these stations. The Motor Carrier's Association of British Columbia would then collect the plates from the gas stations and transfer them on to a Red Cross salvage depot at 34 East Second Avenue in Vancouver.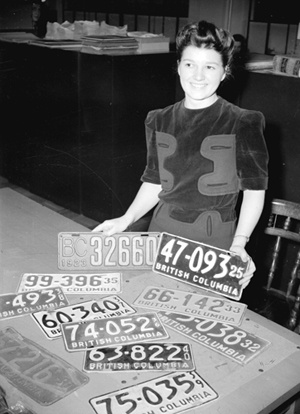 By the end of March 1941, it was being reported that:
the license plate situation is not particularly hopeful, however. The oil company started a nationwide drive for these plates, beginning in Ontario and the Eastern Red Cross was able to dispose of them to a smelter at Hamilton for $15 a ton. British Columbia, however, is "the graveyard" of certain types of scrap, and license plates are one. It would exceed $15 a ton freight to the East. The steel on license plates is thin and British Columbia foundries do not need this type of metal. And the price has slumped since shipments to Japan have stopped. So license plates are stored here pending a better market.
Towards the end of 1941, the province began to contemplate the official collection of license plates for scrap metal and began to set-up collection points at the various offices of the Provincial Police as well as vehicle testing stations.
This included the Georgia Street Testing Station in Vancouver where Miss Alice North was photographed (at right) in February of 1942 with a pile of various BC license that had been turned by residents (Vancouver Archives Collection - No. AM1184-S3-: CVA 1184-48). According to Provincial Police officials, the response to the appeal was good with one motorist bringing in license plates that were nine years old.
The flip-side of the scrap metal drives that collected old license plates from motorists were debates about how to conserve metal for use by war industries.

In April of 1941, George Hood, Superintendent of the Motor Vehicle Branch (MVB), announced that his department recognized "the growing demand for conserving metals and it may be that some of the more recently-developed plastics will prove to be suitable for number plates."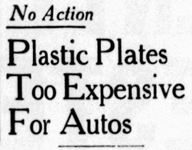 The challenge was going to be finding a suitable plastic that would not become brittle in the winter temperatures experienced in parts of the province, or would not be easily counterfeited.
By October of 1941, Hood had concluded that the use of plastics for license plate production was unlikely to be pursued as "no suitable substitute has been discovered at a reasonable price."
Meanwhile, reports of how other jurisdictions were meeting this challenge began to be published in the local press, including Washington State announcing its use of a windshield sticker to validate its 1942 plates for 1943 and Michigan using a metal tab to do the same thing and validate its 1942 plates for 1943.
Saskatchewan subsequently announced (somewhat prematurely) that it too would use a metal tab for 1943, a move that was praised by officials in Ottawa as "a step in the right direction" (NOTE: Saskatchewan ended up issuing a single plate in 1943 validated by a windshield decal in 1944):
The Federal government's interest in license plate manufacturing was a result of its taking control of many aspects of the economy in support of the national war effort, including the allotment of metal for various industries. Use of metal now had to be approved by the Federal "Metals Controller", George Bateman (shown below at far right in a meeting with the U.S. and Canadian "International Material Co-ordinating Committee" in May of 1941).

Recognizing that the province was unlikely to be allotted the same amount of steel it had used to make the 1942 plates that were soon to be issued to motorists, speculation began over how British Columbia might provide license plates in the coming years:
| | |
| --- | --- |
| | |
In response to similar questions from the other provinces, in late-December of 1941 Bateman suggested that the provinces plan for only enough metal to be able to manufacture a single license plate for each vehicle in 1943 and that he would provide more official direction in early 1942.
By comparison, in the United States new metal license plates were prohibited for 1943 and states either had to make due with a small metal renewal tab (not more then 4 square inches) or a windshield decal in conjunction with 1942 plates, or use alternate materials such as fibreboard.

This was enough to spur British Columbia to announce on December 31, 1941, that motorists would only be receiving a single license plate for 1942 as this would save approximately 40 tons of steel:
Ontario and Nova Scotia joined week later in announcing that they too would move to single license plates, but for 1943. Bateman would shortly prohibit the use of brass and other nonferrous metals for dog license tags, key tags, coat and hat check tokens and bicycle license plates.
Upon hearing of the plan, the Cowichan Leader newspaper reminded the province of its Editorial position from 1935 - the same time that Connecticut had introduced its renewable license plate - asking that a plan be found to allow for the use of license plates for more than one (1) year.
For Leader staff, this would have been preferable to the seemingly slap-dash solution of issuing only a single plate that still required replacing every year and most likely impeded the ability of authorities to identify vehicles.
1942

Issuing Statistics

Initial Series:


1 to 99-999

Registered:


100,582

Over-run:


5,000* (prefix series)

Issued:


Singles

Manufacturer:


Oakalla Prison

Dimensions:


290 mm x 137 mm

Material:


Metal

Comments:
'A' prefix: Vancouver Island;
'B' prefix: Vancouver; and
'F' prefix: New Westminster.
It is not clear if prefix plates were only issued in blocks of 2,000 (i.e. 'A-1' to 'A1-999').

* Estimate / Unconfirmed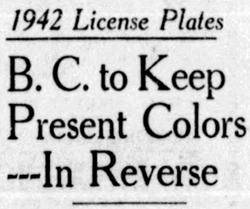 On November 14, 1941, it was announced that the colour of the 1942 license plates would be the same as the 1941 plates, but with the colours reversed with the numerals white on a blue background.
The initial allotment of plates ordered from Oakalla was 99,999, with the practice established in 1940 of using three letter prefixes continued for passenger vehicles after the regular allotment of plates had been exhausted. As in the previous year, this would see the letter "A" being used on Vancouver Island, "B" in Vancouver and "F" for New Westminster.
Despite the best efforts of motor vehicle licensing authorities not to issue the same colours as a neighbouring jurisdiction, the other two places that used a white-on-blue colour scheme for 1942 were the Canal Zone (8,000 km to south), Nevada (getting closer), Oregon (really close) and ... Alberta (yikes!):
On December 31, 1941, in an effort to conserve materials for the national war effort, it was announced that only a single license plate would be issued for 1942. On January 8, 1942, George Hood, Inspector of the Motor Vehicle Branch (MVB) made it official by writing to advise all Provincial Police that:
due to the shortage of steel, it has been decided to issue only one license plate for motor-vehicles being licensed in this Province for the license year 1942, such number plate to be attached to the rear of the motor-vehicle for which it is issued.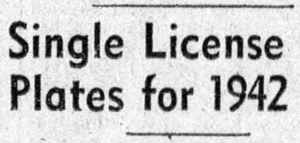 A Vancouver newspaper subsequently decided to ask a random assortment of people at the corner of Granville and Dunsmuir Street in early February of 1942 what they thought of the decision to move to single plate and if it should be continued in 1943. Here are there answers, complete with photos of men in proper headwear, which we think is an absolutely tremendous time-capsule!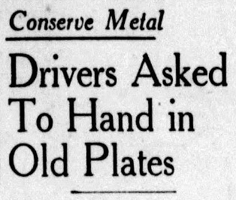 On January 31, 1942, and on the eve of 1942 license plates commencing to be issued, Hood again wrote to Provincial Police officers around the province, this time to advise that:
In view of the fact that there is a shortage of steel, please request those persons who have 1941 motor-vehicle licenses to turn their 1941 motor license plates in to your office. The turning in of such plates is not being made compulsory, but the co-operation of the motoring public is being asked in this respect. As there are no rolling mills west of Hamilton, it is not possible for us to make use of those motor-vehicle license plates which are in a badly damaged condition such as having the bolt hole slots torn out etc. Instructions will be forwarded later in the year as to the shipping of these plates.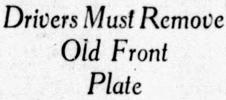 Even if motorists did not want to turn-in their 1941 as scrap metal, they were reminded to remove them from the front of their vehicles as the Motor Vehicle Act prohibited the display of an old license plate. It was reported that "a number of city motorists are disobeying this rule."
1942 - Gallery
| | |
| --- | --- |
| | Shown at left is a car displaying an example of the "F" prefix that was issued to passenger vehicles in New Westminster between 1941-47. Available MVB records indicate that this particular plate was the last in the initial bloc of 1,000 plates (i.e. F1 to F1000) produced in 1942. An additional bloc of over-run plates with an "F" prefix was subsequently produced. |

On December 7, 1941, Canada officially declared war on Japan following the latter's bombing of Pearl Harbour and invasion of Hong Kong and Malay. Almost three (3) months later, on February 27, 1942, the Federal government announced that an amendment to the Defence of Canada Regulation would result in the removal of "persons of the Japanese race living in the protected area of British Columbia" as well as the surrendering of all their cars, cameras, radio transmitting and receiving devices, firearms, ammunition and explosives."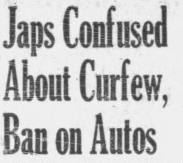 Coming, as it did, at the end of the vehicle registration year for 1941, the announcement caused confusion for affected residents in the Vancouver and Victoria areas who did not know if they should purchase 1942 license plates for their vehicles by the March 1st deadline.
If the new regulation was to be enforced in a matter of weeks, it did not make sense to purchase new plates for what might be only a few weeks of use, but if it was going to be months before the regulation was enforced it was reported that many "would like to use their cars in the meantime."
Compounding the confusion was the willingness of the Provincial Police to continue issuing new license plates to affected residents, despite the ban. According to one Motor Vehicle Branch (MVB) official, "they had no instructions to refuse issue" but it was assumed that some sort of arrangement would be made for those who had purchased 1942 plates to have their money refunded.
Not surprisingly, it was reported that some affected vehicles were being seen with 1941 license plates while other were spotted displaying 1942 license plates after the March 1st deadline for acquiring 1942 plates.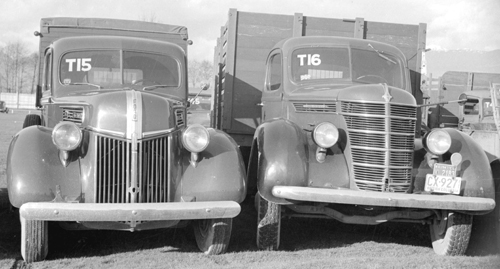 In Vancouver, the Hastings Park Racetrack (seen above) was designated as one of two depots in the city where "banned articles" were to be turned over to the RCMP and the official location for vehicles.
As can be seen in the image at left, some of the vehicles being turned in at Hastings Park had continued to be driven on 1941 license plates two weeks beyond the March 1st deadline for 1942 plates (see truck at right, which also displays a 1941 motor carrier license plate).
The other vehicle, at left, is not displaying a front license plate and it is assumed that its owner had taken out registration for 1942 and was displaying the single plate for 1942 on the rear of the vehicle.
On September 22, 1988, the Federal government apologized for the internment of Japanese Canadians and the confiscation of their property in 1942, while the British Columbia legislature issued a similar apology in 2012.
How many digits on a license plate?
When the province had taken over the production of license plates in 1930 (for the 1931 license plates) it had heard of safety concerns from the workmen who had used the stamping machine at the J.R. Tacey & Son shop. The Conservative government, however, did not believe that it would be required to "pay compensation if a convict worker crushed his hand in the machine."
In Committee hearings at the time, Liberal MLA George Pearson (Nanaimo) challenged the government on this point, declaring "in other words a prisoner is not a human being. The government saves $5000 and shirks the responsibility that falls upon a competitive industry [for insurance]. They have no rights to take advantage of prisoners. It is unfair to competitors." While some Conservative MLA declared an openness in Committee to taking out insurance on prisoners employed in making license plates, it is not known if this ever occurred ...

Fast-forward 12 years to March 10, 1942, and a report that a 22-year old inmate at Oakalla had won an award of $1,500 (just over $25,000 in 2022) against the provincial government for - yes, you guessed it! - the loss of three fingers and parts of a fourth finger while working at the license plate stamping machine.
The man, who was serving a 3-month sentence, had become distracted while working the machine with the result that his digits were added to those of the license plate he was stamping at the time (resulting in BC's first 8.5 digit license plate ... sorry, I couldn't help myself!).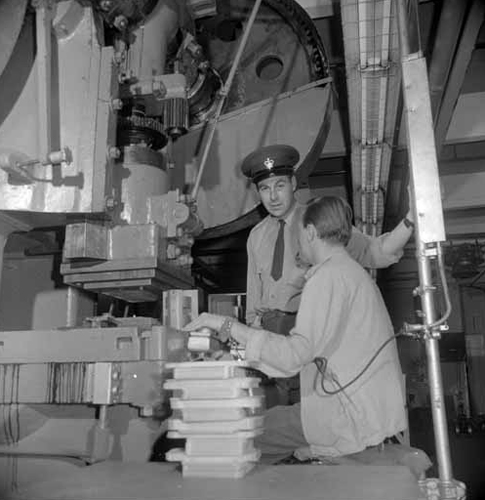 It was reported that, since the accident, "a guard has been placed on the machine to prevent a recurrence."
As a long-term solution, the stamping machine would be rigged with safety mechanisms to ensure the same thing could not happen again either as a disability claim or a way to get transferred out of Oakalla (which was not known as a desirable place to be).
This can be seen in a rare photo from inside the Plate Shop at the Oakalla Prison Farm (circa mid-1960s and after an upgrade to the shop had been completed in the early 1950s) which shows a prisoner at the stamping machine with a pile of blank plates waiting to be stamped.
Note the use of wrist straps attached to the prisoner and the wire running under his left elbow to the post behind. Lean forward and the machine won't work. Pull back and remove your hands from the press area and the stamp can be activated.
As was the custom in this era, the prisoner has been directed by the photographer to look away so as to avoid being identifiable.
1943

Issuing Statistics

Initial Series:


1 to 89,000

Registered:


98,920

Over-run:


20,000*

Issued:


Singles

Manufacturer:


Oakalla Prison

Dimensions:


290 mm x 137 mm

Material:


Metal

Comments:
'A' prefix: Vancouver Island;
'B' prefix: Vancouver; and
'F' prefix: New Westminster.
It is not clear if prefix plates were only issued in blocks of 3,000 (i.e. 'A-1' to 'A2-999').

* Estimate / Unconfirmed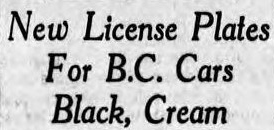 With the decision to split and re-use one of the 1942 plates for 1943, Oakalla was able to complete the order in record time with the necessary alterations to the plates in the form of re-stamping the '2' into a '3' completed by March of 1942.
It was reported that the 1942 colours or white-on-blue were "rubbed out" and replaced with a black-on-cream colour scheme by September of 1942.
1943 - Gallery
The decision to issue only a single plate for 1942 occurred only after pairs of license plates had been stamped at the Oakalla Prison Farm.
So that no metal was wasted, the 1942 pairs were split-up with one plate heading back to Oakalla were it would be re-stamped for issuance in 1943 and repainted, and the other plates being issued to motorists.
As a result, if you are fortunate enough to have the same numbered plate for 1942 and 1943 you are holding what originally started out as a pair of 1942 plates:
As 1942 and 1943 are both "Single Plate" years, it is highly desirable, but also very difficult to obtain plates for a collection that have the same number - such as the No. 879 shown above - indicating that they were originally the same pair of 1942 plates.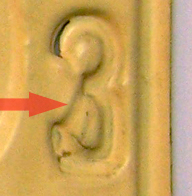 Although not always clearly visible on the front of the 1943 license plates, it is possible to see the re-stamping (or re-striking) process on the back of the plates (with some plates showing this better than others), such as the example shown at left.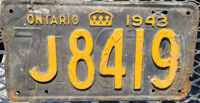 British Columbia was not the only jurisdiction to have to re-stamp some of its plates in this period. Ontario re-stamped some of its 1942 license plates and re-painted them in 1943 colours. Unlike BC, however, Ontario's re-stamps involve the serial number as well as the date (as seen in the image at right).
Whereas in Quebec and a couple of American states such as Illinois and Louisiana the use of metal was replaced by fibreboard:


Apparently, some of the only griping about the new plates came from members of the Provincial Police assigned to traffic patrol who let slip that "to note the number of a car stopped for traffic violation it is now necessary to walk to the rear of the car and back again ... instead of merely bending and peering around the front fender, as before."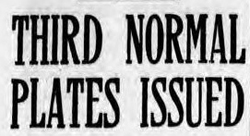 Sales of 1943 license plates were sluggish due to uncertainty regarding license fees for the year; the BCAA had requested the province lower the rate to $10/year, as well as pending announcements regarding the rationing of gasoline (not due to occur until early March) and rubber restrictions affecting tire availability.
The gas ration books would allow for approximately 2,000 miles of driving each year and were having the affect of potentially driving casual drivers off the road.
When it became clear that the annual license fees would not be reduced, license plate issuance picked-up suddenly by the end of February according to Provincial Police, but would still be slightly lower than what had occurred in 1942.


1944

Issuing Statistics

Initial Series:


1 to 92,950

Registered:


99,063

Over-run:


16,050*

Issued:


Singles

Manufacturer:


Oakalla Prison

Dimensions:


290 mm x 137 mm

Material:


Metal

Comments:
'A' prefix: Vancouver Island;
'B' prefix: Vancouver; and
'F' prefix: New Westminster.
It is not clear if prefix plates were only issued in blocks of 3,000 (i.e. 'A-1' to 'A2-999').

* Estimate / Unconfirmed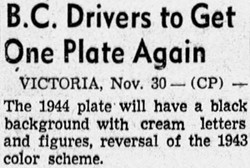 On November 30, 1943, the colours for the 1944 license plates were announced; "patrol cream"-on-black, being the reverse of the colours used on the 1943 license plates.
It was further announced that motorists would only be issued a single license plate for the year due to on-going metal restrictions.
Inspector George Hood further announced that, due to the Motor Vehicle Branch (MVB) having "adopted a policy of salvage and conservation early in the war, we have sufficient supply of metal on hand to continue" the practice of issuing only a single plate for 1944.
The licensing reduction that motorists had hoped for in 1943 was also announced in 1944, with Premier Hart enacting a 20% cut. The reduction would be immediate and for early birds who had already purchased their new plates a refund would be sent by mail from the provincial government in Victoria.
When the legislation was introduced, it allowed for amputation cases and veterans receiving a disability pension to obtain license plates free of charge and, more interesting, allowed for 1945 license plates to be manufactured with a material other than metal, should the need arise.
The net result, according to the MVB, was that by the end of April, 90,069 passenger cars had been license compared to 82,063 at the same point in 1942. This was a difference of approximately 8,000, or a 9.75% increase.
1944 - Gallery

1945

Issuing Statistics

Initial Series:

Registered:


Over-run:


Issued:


Manufacturer:


Dimensions:


Material:


Comments:
'A' prefix: Vancouver Island;
'B' prefix: Vancouver; and
'F' prefix: New

Westminster.


It is not clear if prefix plates were only issued in blocks of 2,000 (i.e. 'A-1' to 'A1-999').

* Estimate / Unconfirmed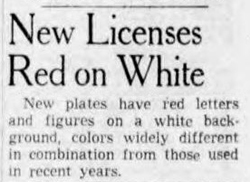 On January 31, 1945, the province announced that the colour to be used on license plates would be red-on-white, marking the first time since the 1930 plates produced by the George Thompson Heating and Ventilating Company that red had been used.
1945 - Gallery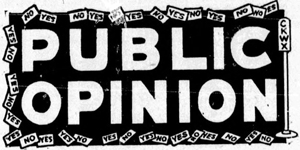 As a publicity stunt, a local Vancouver radio station would run pubic opinion polls in the three Vancouver newspapers asking readers a series of questions that journalists from those same newspapers would try to guess the response.
In July of 1945, one of the questions was; "Should the license plates be returned to the front of cars, trucks, etc. as well as at the back?"
The answer to this question, revealed the following week was; Yes, which garnered 83.9% of the votes cast.
Vancouver Police chimed in a few weeks later, commenting that car thefts had become "big business" and that their jobs would be greatly aided by a "return to front and back license plates ... [as this] would help prowler car officers in spotting stolen car numbers."
1946

Issuing Statistics

Initial Series:


1 to 104,040*

Registered:


109,077

Over-run:


7,950*

Issued:


Singles

Manufacturer:


Oakalla Prison

Dimensions:


290 mm x 137 mm

Material:


Metal

Comments: It is not clear if prefix plates were only issued in blocks of 3,000 (i.e. 'A-1' to 'A2-999').

* Estimate / Unconfirmed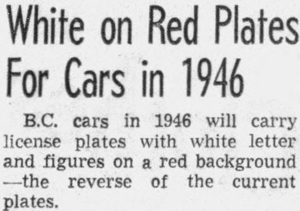 On September 21, 1945, the province announced that the colour to be used on the 1946 license plates would be white-on-red, being the reverse of the previous years plates.
As in previous years, letter prefixes would be used for Victoria & Island, Vancouver and New Westminster, but due to growth in automobile ownership, a new letter was added for the rest of the Lower Mainland. According to the Motor Vehicle Branch (MVB):
In the event of Issuing offices requiring further allotments of passenger plates, these will be supplied in the usual manner. However, if the ordinary numerical passenger sequence is exhausted during the licence year, Mainland points will be supplied with a series beginning with the prefix "H" with the exception of Vancouver Motor Licence Office which will be allotted "B" and New Westminster Motor Licence Office and Sub-Offices which will be allotted "F". The alphabetical prefix for Vancouver Island being "A" as in previous years.

It was subsequently confirmed the following month that the 1946 license plates would, once again, be issued as singles. It was possible that pairs of plates would be issued in 1947, but this was going to be dependent on "the material and labor situations improving sufficiently."
1946 - Gallery

Vancouver Island
('A')


City of Vancouver
('B')

City of New Westminster
('F')

Lower Mainland
('H')

By early March of 1946, it was becoming clear that vehicle ownership in the province was expanded at levels not seen in at least a decade. In Vancouver, 32,500 license plates had been issued during between February 1st and March 7th - a record despite the difficulty of obtaining new cars at this time.
While the number of cars was increasing by about 10%, the number of British Columbians licensed to drive was increasing even more, from 132,474 in 1945 to 157,409 in 1946, an increase of 16.6%.
Interestingly, following the legislative changes in 1944, it was recorded that 417 "amputation cases" had been issued free license plates, an increase of 31 from 1945 when 386 free license plates had been issued.


1947

Issuing Statistics

Initial Series:


1 to 117,000*

Registered:


128,611

Over-run:


33,000*

Issued:


Singles

Manufacturer:


Oakalla Prison

Dimensions:


287 mm x 137 mm

Material:


Metal

Comments: It is unknown where the 'J' prefix was issued, or if it was even based on a geographic area.
It is not clear if all of the prefix plates were issued in blocks of 10,000 (i.e. 'A-1' to 'A9-999'), or were some issued in blocks less than 3,000.

* Estimate / Unconfirmed

On October 17, 1946, the province announced that the colour to be used on the 1947 license plates would be "Mediterranean green"-on-white.
It was further reported that "the Attorney-General's office would have liked to have two plates, for the front and rear of all cars and trucks, [but] it is believed that because of the steel strike, enough material will be available for the two plates."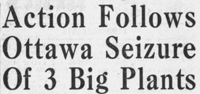 The steel stike that was being referred to was the one that occured after the Federal government named a Controller for the country's three main steel plants at Sault Ste Marie (Algoma Steel Corp.), Hamilton (Steel Company of Canada) and Sydney (Dominion Steel and Coal Corp.) on July 10, 1946, "in the hopes of averting a nation-wide steel strike which would cut off production of coke needed for fuel and production of steel for use in other industries".
Together, these plants supplied about 80% of Canada's steel and their closure could jeopardize upwards of a 500,000 other jobs across the country. Negotiations had been on-going since the start of the year, but after 6-months little progress had been made.
Despite the government's efforts, five days later, thousands of steelworkers in Hamilton walked off the job, pressing for higher wages, a 40-hour work week and a requirement by the company to regularly deduct dues on behalf of their union. The strike would last 81 days and impacted numerous industries across the country, including the production of license plates in British Columbia.


Steelworkers striking the Steel Company of Canada plant in Hamilton during the summer of 1946


1947 - Gallery

Vancouver Island Overrun
('A')


City of Vancouver Overrun
('B')

City of New Westminster Overrun
('F')

Lower Mainland Overrun
('H')

1948

Issuing Statistics

Initial Series:


1 to 140,000*

Registered:


143,675

Over-run:


70,000*

Issued:


Pairs

Manufacturer:


Oakalla Prison

Dimensions:


287 mm x 137 mm

Material:


Metal

Comments:

The use of the 'F' prefix on passenger vehicles would be discontinued in 1948 following amendments to the Motor Vehicle Act in 1947 which created a separated category of

Farm Tractors

. Henceforward, farm tractors would be issued 'F' prefix plates.

It is not clear if prefix plates were

only

issued in blocks of 10,000 (i.e. 'A-1' to 'A9-999').

* Estimate / Unconfirmed

On February 27, 1947, it was announced that George Bateman, the Federal "Metals Controller" would be revoking his wartime order limiting plates to one per vehicle.
This would allow authorities at Oakalla Prison Farm to place "an early requisition for double the quantity of sheet steel" in order to, for the first time since 1941, make pairs of license plates for issuance to motorists - assuming that production bottlenecks from the 1946 steelworker strikes could be overcome.
Acquisition of the necessary steel was confirmed on May 22, 1947, along with the colours of the 1948 plates, which were to be a reverse of the 1947 colours; white-on-Mediterranean green. It was estimated that more than 150,000 car plates would be required in 1948, with issuance commencing by mail on January 2, 1948, and in-person on February 1, 1948.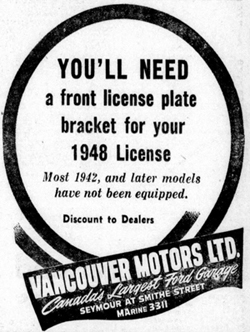 As will be seen below, trying to figure out the letters on the 1948 plates and where they might have been issued is a mug's game. Available MVB records distributed in October of 1947 indicate that plates with a 'J' prefix (J1 - J9999) would be issued in Vancouver, a 'W' prefix (W1 - W2500) would be issued in New Westminster, an 'A' prefix (A1 - A3000) would be issued in Victoria, while 'H' (H1 - H2000) would be held in the stock room and sent out where needed.
These four letters would allow for an addition 40,000 plates in addition to the 100,000 all-numeric plates to be issued. With the additional known letter prefixes of 'K', 'P', 'R', 'S', 'T'* and 'U', a further 60,000 plates may have been manufactured, which would have brought the total for the year to 200,000 pairs of plates.
Although the number of vehicles increased by 11.7% over the 1947 total, why so many license plates were needed, when registered vehicles in 1948 were only 143,675 is explained below.
1948 - Gallery
The Great Paint Mystery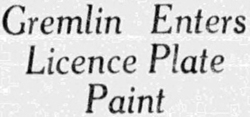 On February 12, 1948, a mere twelve days into the licensing year, all the main newspapers in the province carried the same story; the white paint was peeling off of the new license plates.
According to George Lindsey, Manager of the Vancouver office of the Motor Vehicle Branch (MVB), an investigation was being initiated into the cause of the "mysterious malady" that was causing the paint to "lift off" the new plates.
At that point, 10 sets of defective plates had been reported with 4 sets returned for replacements. Lindsey advised that all of the defective sets had been issued outside of Vancouver and that were not to try and re-paint the numbers on affected plates. When asked to guess at the cause, Lindsey hazarded that "a gremlin" had got into the white paint.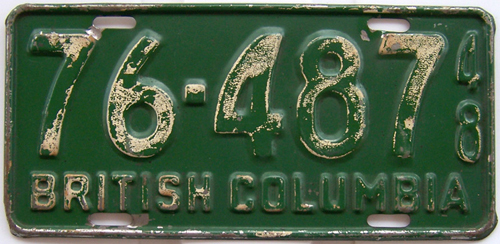 Two days later, the Provincial Police attempted reassure motorists, advising that replacement plates were free and while "there had been some complaints of the white paint wearing off ... the percentage of defective plates appeared to be small and confined to one shipment from Oakalla."
By the second week of what had now been coined "The Great Paint Mystery" officials remained baffled as to the cause while newspaper headline writers were having a field day:

| | |
| --- | --- |
| | |
By now, the issue had been elevated to the desk of the Superintendent of the MVB, George Hood, who expressed his own puzzlement while sharing the bafflement of the staff in the various field offices, the Oakalla plate shop and at the paint manufacturers.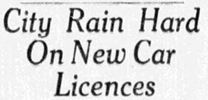 At that point, 1,000 sets of plates had been returned with the only possible clue being the affect that wet weather was having on the paint.
In Victoria, which tended to be wet this time of year, plates in the 1 to 1-000 and 8-000 to 9-000 series were most affected, but there was no rhyme-nor-reason to the pattern. Hood reported that "paint on one number may flake off in a few days after it is put on a car. But on the next plate it can't be knocked off with a chisel."
As investigations continued, officials from the British American Paint Company reported that extensive tests had found no flaws in the pigments they supplied to the province.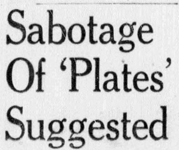 Suspicion soon fell on Oakalla and the inmates who worked in the Plate Shop. Had they found a way to sabotage the plates by overheating them in the drying oven after the green base coat had been applied? Had this occurred, it was thought the base coat would be so hard that the white paint would easily chip off.
Worse, when no one was looking had the inmates urinated into the batches of paint in order to purposely ruin the plates and, if so, how much tinkle would this have required?
Superintendent Hood attempt to poor cold water (or, dare we say, warm water?) on this theory, declaring it completely unfounded and anyone reporting it as "just whistling in the breeze" (or, did the Superintendent mean to say "pissing into the wind"?).
Some motorists suspected something more sinister than urine; radio-active fallout from the atom bombs that had been tested in New Mexico and the Bikini Atoll as well as those dropped on Hiroshima and Nagasaki coming down in the rain and melting the paint off the plates.


This hypothesis momentarily gained some credence when it was reported that motorists in Washington State had begun to expeirence the same problem with the paint peeling off the letters and numbers on their license plates. Left unsaid was that Washington's license plates had been issued in 1947 and re-validated for 1948 with a windshield decal, so had already been in use for over year. In addition, Washington was experimenting with the use of a polished aluminum base that did not lend itself well to retaining paint over a long period of time: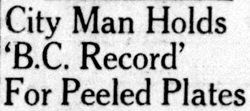 The Paint Puzzle, however, was no longer a laughing matter as several thousand replacement plates had to be ordered from Oakalla, while some motorists were discovering that their substitute license plates were also peeling. This included George Martin, a traveling salesman from Vancouver who, having returned five sets of peeled plates, declared himself to be the record holder for the most number of license plates issued in BC for a single year.
Also "pissed" by this situation, where the "T.B. boys" that worked at the T.B.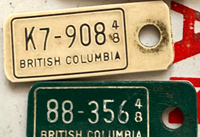 Veterans' Branch of the Canadian Legion making keytags in the form of miniature license plate tags that they then sold to motorists as a way to support themselves. At the begining of the year, these Vets had sent out thousands of keytags to motorists with their license plate numbers on them (NOTE: in this era the Legion had access to the name, mailing address and license plate number of motorists in order to run their business). When the paint began to peel, the Vets had to prepare all new keytags for motorists that displayed their new license plate number and mail these out. Apparently, this extra work "wasn't funny" to the Vets.
The first batch of replacement plates displaying a "P" prefix arrived at the end of February and caused some angst amongst MVB staff as the "texture of the paint on these new plate [seemed] to be no different than that of the ones now being" returned (which had now hit 50 sets of plates returned each day).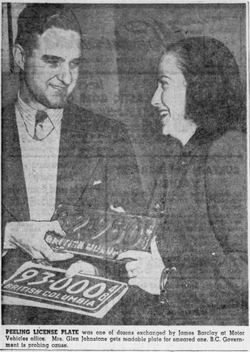 By the middle of March, the cause of the peeling plates had still not been determined other than wet weather playing some part, which was now affecting plates in the Okanagan. Even then, weather was not a convincing hypothesis as some affected plates had only two or three bad numbers while the others remained fine.
Although 1,200 pairs of plates had been replaced by March 20th, the MVB decided to spur more motorists into returning defective plates by refusing to pass vehicles at testing stations (a compulsory requirement to be able to drive at this time).
One week later, the number of replaced plates had hit 3,000 and the average number being returned each day was hitting 200, including those returned by "Mrs. Glen Johnstone" (shown at left). By April 1st the number had hit 4,000 returned sets of plates and by July 13th it was just over 17,500 with estimates placing the potential at 50,000 having to be replaced.
Despite the push by the authorities to have motorists replace defective plates, as late as October of 1948 Letters to the Editor were still complaining about the difficulty of recording the license plate numbers of reckless drivers due to the poor state of the paint on many plates.
In the end, it was estimated that the MVB had to replace over 30,000 defective plates. If there was an upside to the use of so many different letter prefixes throughout 1948, it was in the savings to the province of having to purchase an extra 31.5 tons of steel, which is the estimate if 6-digit plates had been used in place of letters.
Does "T" = Truck?
In light of photographic evidence (see below), there is some question as to whether the "T" was issued to private passenger vehicles of commercial trucks in 1948:

Given the wild range of alpha-numeric combinations that had to be used to accommodate Commercial Trucks in 1948 (
Click here
to see!) due to the peeling paint, use of the "T" prefix would have provided 10,000 combinations versus the 1,000 available under any 2-letter/3-number combo. Until more information comes to light, we are posting plates with a "T" prefix under passenger, but this could change ...

© Copyright Christopher John Garrish. All rights reserved.