British Columbia Passenger License Plates
1952 - 1954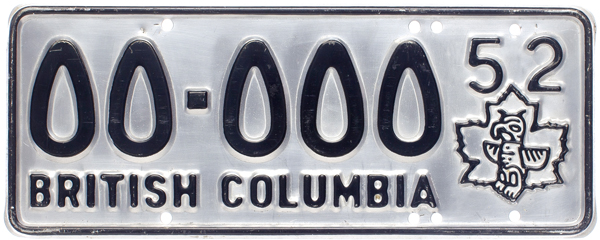 Ahhh ... the ill-fated Totem, a striking plate and one of my favourite BC plate designs of all time - but what a mess!
* * * * *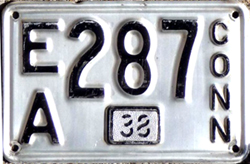 The decision by the Motor Vehicle Branch (MVB) to go with a a polished or unfinished aluminium base was not entirely unusual as the use of this material had been all the rage with issuing authorities across the U.S. and even in some Canadian provinces throughout the 1940s.
Connecticut had kicked started the trend in 1937, when it became the first state to use an unfinished aluminium base, and also, incidentally, happened to be the first jurisdiction to introduce a "permanent" license plate this same year. Its 1937 license plates were to be renewed through the use of metal renewal tabs (sound familiar yet?).
In Canada, Alberta would issue the first unfinished aluminium plate in 1939, but the use of aluminium would not really take off until after the end of the Second World War. According to Bill Johnson in his history of New Mexico license plates, this was a result of the transition from wartime economy and a surplus of tens of thousands of unneeded military aircraft - either finished or still under production - in factories across the US. The vast majority of these planes would be scrapped, making available a significant amount of aluminium at very competitive prices. In response, a number of states took advantage of this situation and began making license plates from aluminium.
Aluminium License Plates - late-1940s
What likely proved to be the biggest factor in prompting British Columbia to experiment with this material was the experience of Washington State, which claimed to be saving hundreds of thousands of dollars in manufacturing costs after switching over to this base in 1947 (with renewal by windshield decals in 1948) - reports of which made their way into Vancouver newspapers.
Aluminium in this era, however, was presenting a number of challenges, the most notable of which was its durability, as the plates were prone to fatigue cracks caused by road induced vibration. This prompted a number of states to abandon the use of aluminium after a single year.
A number of other states, however, tried to improve the durability of aluminium plates in the late-1940s by experimenting with a "waffle" design which used a hatch-textured base to add strength to the plate.
Reinforced "Waffle" Aluminium License Plates - 1949-51
These "waffle" were generally not used for more than a year or two (with the exception of South Dakota which used this type of plate from 1948-51).
In light of this, that British Columbia would come to the party so late and decide to use this material for the purposes of a "permanent" plate to be renewed for a five year period starting in 1952 is somewhat confounding and almost inexcusable in light of the problems that would beset to the Totem base.
* * * * *
The 1952 plate would present a number of challenges in that the base was intended to be renewable over a period of approximately 5 years, but that the 250,000 to 350,000 plates that would be required over this timeframe would need to be accommodated by a 5-digital serial in order to accommodate the placement of the "Totem" emblem (being a thunderbird totem pole inside the outline of a maple leaf) at the right side of the plate.
To accommodate this, the Motor Vehicle Branch (MVB) re-introduced the use of single letters into the combination - as has occurred in the period between 1940 to 1948 when passenger registrations routinely exceeded the 100,000 combinations afforded by the 5-digit all numeric "00-000" format in use at that time.
Accordingly, one of the easiest way to understand how the 1952 series worked is to think of it as being three distinct blocs of between 50,000 to 100,000 plates that were issued to different parts of the province based upon a certain urban hierarchy.
What can be considered as the first bloc of 100,000 were the traditional all-numeric plates displaying the "00-000" format. These were issued to the majority of MVB offices across the province, the majority of which were in the smaller urban/rural areas - with the exception of Victoria which retained it status as the location from which the first bloc of plates (and, most importantly, No. 1) were issued.
1st Bloc - "00-000" format


VICTORIA: 1 TO 40-000



ALBERNI: 40-001 TO 43-700

Issuing Statistics

| | |
| --- | --- |
| Victoria: | |
| Alberni: | |
| Ashcroft: | |
| Atlin: | |
| Barkerville: | |
| Burns Lake: | |
| Clinton: | |
| Courtenay: | |
| Cranbrook: | |
| Creston: | |
| Duncan: | |
| Fernie: | |
| Golden: | |
| Field: | |
| Grand Forks: | |
| Greenwood: | |
| Kaslo: | |
| Kelowna: | |
| Lillooet: | |
| (Bralorne): | |
| Merritt: | |
| Nanaimo: | |
| New Denver: | |
| Nakusp: | |
| Oliver: | |
| Penticton: | |
| (Summerland): | |
| Pouce Coupe: | |
| Powell River: | |
| Prince George: | |
| Prince Ruppert: | |
| Princeton: | |
| Quesnel: | |
| Revelstoke: | |
| Rossland: | |
| Salmon Arm: | |
| Smithers: | |
| Vernon: | |
| (Armstrong): | |
| (Enderby): | |
| Williams Lake: | |
| | |

ATLIN
44-051 TO 44-100

BARKERVILLE
44-101 TO 44-250

BURNS LAKE
44-251 TO 45-150

CLINTON
45-151 TO 45-400

DUNCAN: 53-201 TO 57-500

FIELD
59-551 TO 59-650

GREENWOOD
60-351 TO 60-700

KASLO
60-701 TO 60-950

LILLOOET
65-951 TO 66-350

BRALORNE
66-351 TO 66-650


NANAIMO: 67-151 TO 73-650

NEW DENVER
73-651 TO 74-000

NAKUSP
74-001 TO 74-200


POWELL RIVER: 82-101 TO 83-700


PRINCE GEORGE: 83-701 TO 86-300

PRINCETON
88-101 TO 89-300

QUESNEL
89-301 TO 90-300

ROSSLAND
90-951 TO 91-950

SALMON ARM
91-951 TO 93-550

ENDERBY
99-001 TO 99-350

WILLIAMS LAKE
99-351 TO 99-999
| | |
| --- | --- |
| | |
| | |
| --- | --- |
| | |
The second bloc of approximately 83,992 plates displayed a single letter prefix - i.e. "A0-000" - and were issued exclusively to the City of Vancouver, which was and remains the largest city in the Province.
2nd Bloc - "A0-000" format
Issuing Statistics

| | |
| --- | --- |
| Vancouver: | |
| | |
| | |
| | |
| | |
| | |
| | |
| | |
| | |
An article entitled "Clerk Draws Howls From Traffic License Queue" published in the Vancouver Sun on February 5, 1952 - a mere few weeks into the use of the new license plates - epitomizes the future of "headaches" that awaited the Totem design:

Those letters they've mixed with the figures on B.C.'s 1952 license plates were the cause of a lunchtime jam-up and some frayed tempers at the B.C. Motor Vehicle Bureau, Monday.
The letters which precede the figures on the new five-year aluminium plates, besides confusing a few of the customers, threw one of the temporary clerks.
Confronted by a mob of lunchtime license plate seekers and with only four of the seven wickets open to handle the rush, one of the clerks became excited and started issuing plates with the C prefix to passenger car operators.
WICKET CLOSED
Now, the C prefix is for commercial vehicles only. When the clerk discovered his mistake, he beat the retreat in a small panic, closing his wicket so that he might ponder his error in peace.
The long lineup, suddenly shut off, growled and shouted its displeasure.
License bureau employees were no happier last night as they scurried about the city attempting to retrieve the errant plates and replace them with passenger plates.
Business this year is much brisker than in 1951. In early February last year only four wickets were needed to handle the crowds. This year seven wickets are in operation.
Seven are open, that is, except for lunchtime.
ROOM LACKING
Letters are being used to prefix digits on this year's plates because the totem pole insignia within a maple leaf on the right side of the plates will not allow the use of six digits as in past years.
Vancouver motorists will get the letters A, E, H, J, K, P, B, R, S, T as prefixes. Other letters are not being used because at a quick glance they can be confused with numerals.
In each case, so the totem pole will not be crowded, the letters are followed by a maximum of four digits, e.g. A1 to A9-9999, E1 to E9-9999 and so on.
Since the 84,000 plates issued for Vancouver distribution will exhaust the supply of letters, New Westminster and the interior will get plates that lead off with a figure, then a letter and then three more figures.
In Victoria, the motorists get no letters, just plain figures, 1 to 99,999. Both clerks and customers find it a bit of a headache. But then, what's a headache when a man has five years to get over it?
The third bloc of approximately 50,051 plates incorporated a single letter as the second character - i.e. "0A-000" - and were issued to eleven mid level urban areas or regional centres of the province such as New Westminster and Kamloops, etc ...
3rd Bloc - "0A-000" format
Issuing Statistics

| | |
| --- | --- |
| New Westminster: | |
| | |
| | |
| Cloverdale: | 3H-1 to 6H-999 |
| Haney: | 7H-1 to 8H-999 |
| Chilliwack: | |
| Kamloops: | |
| Abbotsford: | |
| Mission: | |
| Nelson: | |
| Salmo: | 3S-601 to 3S-800 |
| Castlegar: | 3S-801 to 3S-999 |
| Trail: | |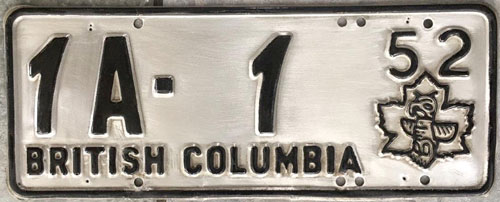 First plate issued in New Westminster - 1A-1.
A number of single letter prefix plates were retained at the Victoria Stock Room for issuance later in the year to other offices on an as-needs basis. While available records only make reference to the "T" and "U" prefixes, the presence of a "W" prefix with the date stamp and totem emblem is thought to signify that additional plates were required prior to the end of the 1952 issuing year.
1952 Over-run
Issuing Statistics

| | |
| --- | --- |
| Stock Room: | |
| | |
For those familiar with our

National Parks

page, red borders on a plate were used to allow local residents free access to Banff, Yoho and Kootenay National Parks. Unfortunately, as this series of "T" plates is over-run, we don't know if it was issued in Field or Golden and if the red borders are related to the Parks. Nevertheless ...
As can be seen in the issuing statistics for the 3rd bloc of plates, not all letters were initially manufactured, with only 4,000 sets of plates where the second character was an 'S' being issued to the Kootenay communities of Nelson, Salmo and Castlegar. The Branch subsequently produced plates with these remaining combinations in order to meet demand and, based upon the absence of the "totem" or a year, it is assumed that these were issued sometime between 1953 & 1954.
Additional Over-run
Issuing Statistics

| | |
| --- | --- |
| unknown: | 9H-1 to 9H-999 |
| unknown: | |
| unknown: | |
| unknown: | |
| unknown: | |
| unknown: | 4S-1 to 9S-999 |
| unknown: | |
Over-run Variations

Given the placement of a letter as the first character on the following plates, it is not unreasonable to think that these might have been over-run plates issued in 1952, especially the "W" prefix which also displays the embossed Totem on the base similar to the "T" & "U" prefix plates shown above. It also seems logical that once the "T" & "U" prefix were exhausted that the MVB would start issuing plates with a "W" and possibly followed be a "Y" prefix. What is somewhat odd, however, is the disappearance of the dash followed by the later disappearance of the Totem on higher numbered "W" prefix plates. It will be interesting to see if all of the "Y" prefix plates do not have the embossed Totem as we add more photos to this section.


DASH / TOTEM


NO DASH / TOTEM


NO DASH / NO TOTEM (SEE PLATE BELOW)
* * * * *

As was planned, the Totem base was to be renewed by validation tab in both 1953 and 1954, with the design of the tabs incorporating the same totem and maple leaf motif that appeared on the right-side of the 1952 base. The most notable design element that sets the tabs apart from the base is the coloured backgrounds (i.e. blue in 1953 and black in 1954).


Caught in the act of stealing a 1953 tab, or simply attaching the new 1953 tab to his car - we really don't know what this particular motorist is up to, do we!!
1953 - 1954


Victoria

Issuing Statistics

| | |
| --- | --- |
| 1953: | 100,001 to 335,000 |
| 1954: | 100,001 to 360,000 |


New Westminster
| | |
| --- | --- |
| | It is always important to look at these serials as you might have a low number, such as the tab shown at left, which is the 81st issued. |
At first glance it seems odd that there are actually issuing statistics for the renewal tabs, but as is evident in the above photos, each tab came with its own unique registration number.
Not surprisingly, one of the main criticisms leveled against the tab renewal system was the lack of legibility as these registration numbers become almost invisible when one is more than a few feet away from the plate.
* * * * *
Although the MVB had retained approximately 15,000 plates for future use in the Stock Room in Victoria as part of the 1952 issuance, this proved insufficient to meet the need for new registrations throughout 1953 and 1954 and a new series of approximately 60,000 plates incorporating a single-letter suffix (i.e. 0-000A) were manufactured.
Unfortunately, the available MVB records for 1953 and 1954 only provide details on the serial numbers that appeared on the renewal tabs and not the number of additional plates that were manufactured to accommodate the need for new license plates.
Nevertheless, it is possible to identify these plates through the absence of the Totem emblem on the base plate - which has been left blank.
1953 - 1954 Base Plates
Interestingly, the letter "D" has now made an appearance, with the series ending in the "K" range.
If you have a plate with a letter combination not shown here, it is also possible that you might be looking at Commercial (C), Farm (F) or Dealer (D) plate.

© Copyright Christopher John Garrish. All rights reserved.