Passenger
Antique
APEC
ATV
Chauffeur Badges
Collector
Commercial Truck
Consular
Dealer
Decals
Driver's Licences
Expo 86
Farm
Ham Radio
Industrial Vehicle
Keytags
Lieutenant Governor
Logging
Manufacturer
Medical Doctor
Motive Fuel
Motor Carrier
Motorcycle
Movie Props
Municipal
National Defence
Olympics
Personalized
Prototype
Prorated
Public Works
Reciprocity
Repairer
Sample
Special Agreement
Temporary Permits
Trailer
Transporter
Veteran

Historic Nos.
Highs & Lows
Miscellaneous
Contributors
Links
Bio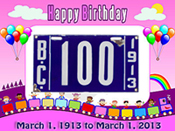 To order your signed copy of Tales from the Back Bumper Bumper, directly from the author, CLICK HERE!
From the publisher, Heritage House:Tales from the Back Bumper is the definitive history of the first 100 years of licence plates in BC. It chronicles the province's evolution, from the time when an automobile on the streets of Victoria was enough to draw a crowd, to the revolutionary road-building vision of W.A.C. Bennett, to the heady days of Expo 86 and the 2010 Winter Games. Through it all, the licence plate has been a source of revenue, a symbol of social status, a means of personal expression and sometimes a bureaucratic headache for those charged with overseeing its design, manufacture and distribution.
As seen on the Global BC Morning News - Friday May 3, 2013:
BCpl8s.ca was created in order to present a pictorial history of British Columbia licence plates from 1904 to the present. Please enjoy your time exploring this site and I am always happy to hear from people wanting to talk plates or share stories!
This site contains well over 4,000 images (a number that increases on a regular basis), in addition to a growing body of historical writing and data on approximately 175 pages.
| | |
| --- | --- |
| | |
BRITISH COLUMBIA MOTOR VEHICLE ACT [RSBC 1996] CHAPTER 318
12 (1) Each number plate must bear the licence number of the motor vehicle or trailer for which it is issued, and shall be of a material and design determined by the Insurance Corporation of British Columbia, and is and remains the property of the corporation.




VISITORS SINCE
NOVEMBER 20, 1999

© Copyright Christopher John Garrish. All rights reserved.
email: cgarrish@yahoo.com