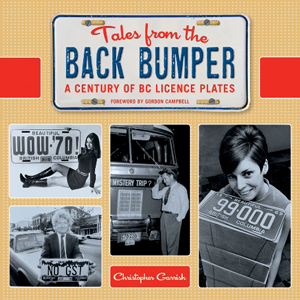 To order your copy of
Tales from the Back Bumper Bumper,
and support the work of BCpl8s.ca,
CLICK HERE!
Tales from the Back Bumper is the definitive history of the first 100 years of licence plates in BC. It chronicles the province's evolution, from the time when an automobile on the streets of Victoria was enough to draw a crowd, to the revolutionary road-building vision of W.A.C. Bennett, to the heady days of Expo 86 and the 2010 Winter Games. Through it all, the licence plate has been a source of revenue, a symbol of social status, a means of personal expression and sometimes a bureaucratic headache for those charged with overseeing its design, manufacture and distribution.