British Columbia Passenger Carrier License Plates

On June 24, 2004, the Passenger Transportation Act came into effect, replacing the Motor Carrier Act (MCA). Licensees authorised to provide passenger transportation services under the MCA were given until February 28, 2005 to "convert" their licences to the Passenger Transportation Act regime.
During the transition period between June 28, 2004 and February 28, 2005, Motor Carrier licensees could continue to display a Motor Carrier Licence plate and decal. However, once registered under the new Act, an operator would be provided with:
1) a Passenger Transportation Licence - the reference number for which would start with the number "7";
2) a Registration Decal - being a unique numbered decal to be affixed to "identifier holder" (i.e. license plate); and
3) an "Identifier Holder" (i.e. a Passenger Carrier licence plate).
The Passenger Carrier license plates are issued and look similar in size to the former Motor Carrier plates, the design, however, incorporates the BC provincial flag as a background and start with the number "8".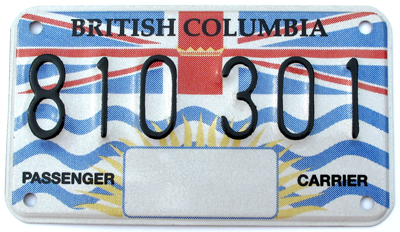 Of note, unlike most license plate issued in the province, the Passenger Carrier plates are done through the Passenger Transportation Board (an independent tribunal established under the Act) and not the Insurance Corporation of British Columbia (ICBC). Passenger Carrier license plates are commonly found on taxis, limos and commercial bus services, such as in the image below:
2010 Winter Games - Temporary Licenses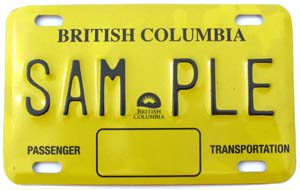 Similar to the approach that was used to deal with the anticipated influx of tourists to Vancouver for EXPO 86 twentyfour years earlier, accomodation was made for the provision of temporary Passenger Transportation licenses in order to ensure that there were enough taxis travelling Highway 97 between Vancouver and Whistler (as access to the highway for private vehicles was limited during the Games).
To differentiate these plates from the standard issues, a bright yellow background was used. While details about these plates have been hard to come by, it is thought that they were only ever intended to be used throughout February of 2010.
Imagine our surprise when a photo of one of these plates landed in our inbox in April of 2014 and it displayed a current registration decal!
For reasons that are unknow to the BCpl8s.ca collective, plates that were only supposed to have been issued and used during the 2010 Winter Olympic games continue to be used and registered a decade later!
Extension to limousines
With news on February 26, 2015, that the Passenger Carrier plates are being extended to limos and party-buses, it is possible that new plates in the series will begin to be issued as few new plates have been seen since this type was introduced 10 years ago (and those being used by taxis are looking fairly rough these days).

| | |
| --- | --- |
| | |
A number of municipalities in and around the City of Vancouver require that taxi cabs be registered and display a unique municipal "Commercial" or "Vehicle for Hire" license plate in order to operate within their municipal boundaries.

This is considered an anti-competitve practice designed to favour local drivers over those offering the same service but from within a different municipality.

The legislative abolishment of municipal plates in 1963 by the provincial government was seen to have addressed this practice but it has slowly been creeping back into practice in places such as Surrey, Burnaby, Richmond and New Westminister through the adoption of "Vehicle for Hire" bylaws.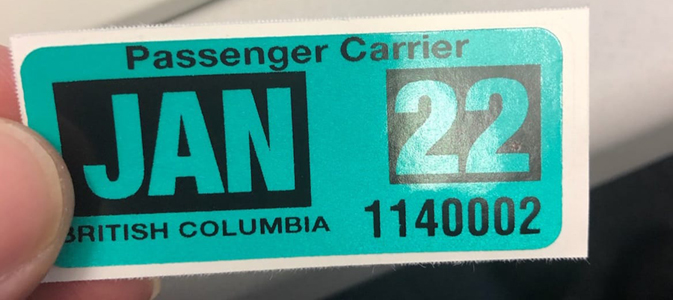 © Copyright Christopher John Garrish. All rights reserved.