British Columbia Veteran License Plates
Milestones

"The Launch" - June 2, 2004!
Not since the launch of Rick Hansen's "Man in Motion" world tour in March of 1984 - which doubled as the debut for the "Flag Graphic" design - had a license plate unveiling in British Columbia received as much pomp as that given to the Veteran plate in 2004. The Premier, members of Cabinet as well as officials from various veterans associations attended a ceremony on the front steps of the Legislature.
in 2004, every Member of the Legislative Assembly (MLA) maintained their own web-site highlighting their accomplishments during the most recent sitting of the Assembly. The unveiling of the Veteran plate was a unique opportunity for many of the (then) 74 member Liberal caucus to pose with the Premier and the new plate, and pictures started showing up on the web shortly after the unveiling. Is body language important? Can you spot who Gordon Campbell is not touching versus who gets the two handed grab?
Rich Coleman (Fort Langley-Aldergrove); and

Lynn Stephens (Langley).

Daniel Jarvis (North Vancouver-Seymour);

Ted Nebbling ( West Vancouver-Garibaldi);

Katherine Whittred (North Vancouver-Lonsdale);

Ralph Sultan (West Vancouver-Capilano).

Gary Collins (Vancouver-Fairview);

Colin Hansen (Vancouver-Quilchena);

Lorne Mayencourt ( Vancouver-Burrard); and

Victor Wong (Vancouver-Kensington).

Gillian Trumper (Alberni-Qualicum).

George Abbott (Shuswap).

Greg Halsey-Brandt (Richmond Centre);

Geoff Plant (Richmond-Steveston);

Linda Reid ( Richmond East).

Mike Hunter (Nanaimo);

Judith Reid (Nanaimo-Parksville).

Blair Suffredine (Nelson-Creston).

Bill Bennett (East Kootenay).

Bill Barisoff (Penticton-Okanagan Valley).

Reni Masi (Delta North);

Sally Jessie Raphael ... I means Val Roddick (Delta South).

Gordon Hogg (Surrey-White Rock);

Reni Masi (Delta North);

Brenda Locke (Surrey-Green Timbers);

Dave Hayer (Surrey-Tynehead).

Stan Hagen (Comox Valley).

Tom Christensen (Okanagan-Vernon).


Rob Nijjar (Vancouver-Kingsway);
Val Anderson (Vancouver-Langara); and
Ken Johnston (Vancouver-Fraserview).

Rick Thorpe (Okanagan-Westside).

John Les (Chilliwack-Sumas);

John van Dogen (Abbotsford-Clayburn).

Kevin Krueger (North Okanagn).

Wendy McMahon (Columbia River-Revelstoke).

Harold Long (Powell River-Sunshine Coast).

Christie Clarke (Port Moddy-Westwood); and

unidentified veterans.
30,000th Plate Issued
At a special ceremony with Canadian veterans on November 11, 2006, Premier Gordon Campbell presented the 30,000 British Columbia Veteran Licence Plate to 81-year-old Anna Allman, who served as a Lance Corporal in the Canadian Women's Army Corps from 1944 to 1945.
Premier Campbell & Anna Allman
What makes this such a frustrating game to play is that ICBC can essentially designate any plate it wants as representing the "30,000" of the series. Sequentially speaking, "300-VBG" is actually the 27,300 plate in the passenger series, but of course the Veteran base is also issued for trucks and motorcycles. It is assumed, therefore, that when all of these types are considered, then possibly 30,000 Veteran plates have been issued.
The reader is first asked to consider that in February 2007, the highest numbered Veteran plate spotted on the road was in "VBD" range, while at the time of writing (June 2007) the highest plate spotted was "490-VBG" which would seem to indicate that only 190 Veteran passenger plates have been issued across the province since Ms Allman received hers in November 2006?
Bear in mind that Veteran plates aren't issued in the same way as other plate types (where each Autoplan broker is given a stock from which to work), but are sent out individually from a central distribution point (similar to the way in which the personalised plates are issued). If this rate of issuance for 2007 is correct, then I would suggest that there has been a precipitous drop in demand compared to the first two years of the program, indicating that the pool of Veteran's willing to display these plates has potentially been tapped with only incremental growth likely to occur in the coming years.
Alternately, it is possible that "300-VBG" was issued out of sequence (maybe grossly out of sequence) due to the possible symbolism of the serial - the 30,000 plate starting with the number "300"? However, if there is significance to the suffix of "BG", it totally escapes me.
50,000 Plates Issued in 10 years (but we aren't so sure)!
On November 6, 2014, the provincial government announced - just ahead of Remembrance Day - that more than 50,000 Veteran license plates had been issued since their release 10 years ago (with Minister Rich Coleman (shown below at right), who was there when the first plates were handed out in 2004, called upon again to present a plate to a veteran).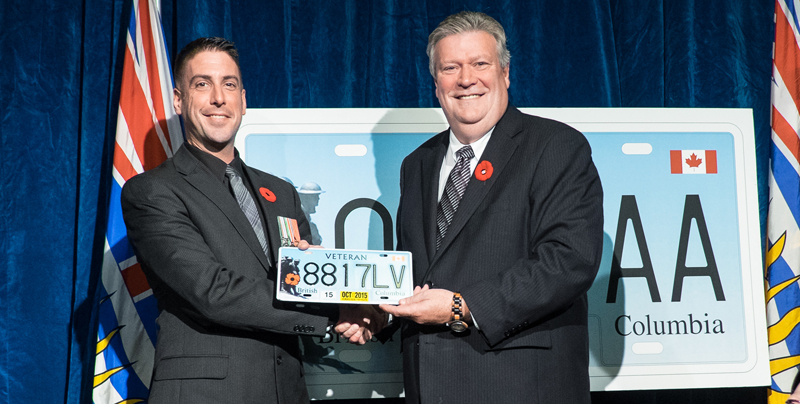 Just as 10 years ago, British Columbia was not alone in using the occasion of Remembrance Day to announce a license plate milestone.
However, in coming to the Tally of 51,400, the government suggested that approximately 6,700 Veteran motorcycle plates have been issued (along with 36,000 passenger and 8,700 commercial truck plates). Yet, on the LicensePlates.cc site, which is a reliable source for the current "high" plates issued across North America (based upon sightings) there are only thought to have been 1,500 motorcycle license plates issued (i.e. to No. V0-1459).
We asked ICBC if they could confirm this number, but never did hear back ... It would seem, therefore, that the actual number of plates issued in the past 10 years is probably around the 46,000 mark. Regardless, we don't want to spoil a good photo op that gets BC licence plates in the news.

© Copyright Christopher John Garrish. All rights reserved.