British Columbia Foreign Touring Vehicle Decals

At the beginning of the 20th Century, the road network in North America was still very primitive by modern standards and outside of the major cities, inter-state or inter-provincial travel by automobile for long distances was extremely difficult to impossible.
It is not surprising, therefore, that the drafters of British Columbia's initial piece of motor vehicle legislation in 1904 never even contemplated what to do about out-of-province vehicles entering the province and using the road system.
Consequently, it is not unusual to find the odd entry in the first Register of Motor Vehicles maintained by the Provincial Police from 1904 for motor vehicles coming into British Columbia from Washington being required to register in BC under the number issued in their home jurisdiction:

Legibility has always been an issue with the hand-written entries in the 1904 Register, so while it is difficult to discern the name of the motorists, it is possible to see - thanks to the red lines used by the Provincial Police to highlight "foreign" vehicles - that the first such car to be registered in British Columbia after 1904 was on May 10, 1907 from Tacoma with Washington State No. "030". This was followed four days later by a vehicle from Seattle with Washington No. 979. Both vehicles were required to pay the $2.00 fee also charged to British Columbia drivers.
This practice was formalised in 1911 when the Act to Regulate the Use and Operation of Motor-vehicles was introduced, and contained a section that dealt with Touring Licences (Section 8.1) that specified "every motor vehicle hereafter brought into the Province for temporary use for touring purposes for any period not exceeding thirty days shall, by the owner or the person in possession thereof, before it is used or operated upon or along any highway, be registered with the Superintendent of Provincial Police ..."
When the Act was amended two years later (1913), Section 8 was revised to include a new statement that the Superintendent would henceforward provide out-of-province motorists registering their vehicles in BC a "certificate", good for a period of 60 days, that was to be exhibited "when called upon to do so by any police constable."
With the introduction of a new Act respecting the Operation of Motor-vehicles in April of 1920, the grace period for touring vehicles was extended to 90 days, but motorists were still expected to register with the nearest constable or government agent within 24 hours of entering the province, after which they would be issued with the requisite "certificate" to be presented to any police officer when requested.
How great is this image from the City of Vancouver Archives collection! Described as "Border town - Canada/US" and thought to have been taken some time in the 1920s, it shows a number of vehicles lined up in both directions waiting to cross the border. Upon closer examination it is possible to see someone who we assume is a US Customs Official inspecting the papers of a driver with 1926 California licence plates and what appears to be a round decal at the bottom of the windshield on the driver's side of the vehicle:

Could it be that the decal in the windshield is the 1926 version of the "Certificate of Registration" issued by British Columbia to "Foreign Touring Motor Vehicles" (with a 1928 example shown above right)? It appears that the next car in line, which also, oddly, appears to have California plates has a similar decal on the passenger side of their windshield.
How many of these "certificates" might have been issued is difficult to discern, however, there does exist one record at the Provincial Archives wherein the Deputy Minister of Finance asks the Superintendent to confirm the number of licenses issued at Yoho and Glacier National Parks (assumedly to Albertans and other Prairie folks) between January 1st and June 30th of 1923 - estimated at 25.
* * * * *
Although the 1920 Act does not appear to draw any distinctions regarding the jurisdictions from which vehicles came, in 1923 the Superintendent, J.H. McMullin, circulated a letter to government agents on December 12, 1923, advising that "it has been decided to issue distinguishing number-plates (black numerals and letter 'F' on white background) in the case of motor-vehicles from places other than Provinces in Canada that operate under a Certificate of Registration of Foreign Touring Motor-vehicle and subsequently take out a British Columbia licence."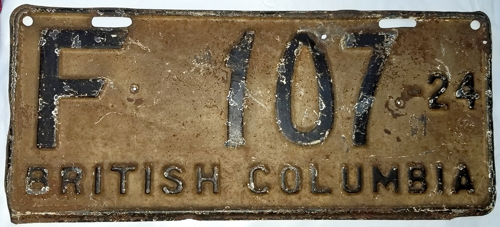 On that same date (December 12, 1923), an invoice was received by the Department of the Attorney General from J.R. Tacey & Son (manufacturer of license plates for the province) requesting payment for "100 pairs Foreign Motor Car number-plates numbered consecutively from 1 to 100 incl."

As can be seen from the example of the 1924 "F" plate shown above, J.R. Tacey & Son manufactured the series from F-101 to F-200, a fact confirmed by the 1924 Register:

For 1925, the province retained only the Permit requirement and dispensed with the need for a license plate.

As a result, the number of permits issued was significantly higher than the number of plates issued in 1924: 1,250 permits versus 100 plates.

Shown at near-left are the numbers of Foreign Touring permits issued either to a provincial police officer or a local auto club.
Not surprisingly, British Columbia's actions on a unique 'F' plate for vehicles coming in from out of province was not unique at this time as a number of other jurisdictions are known to have issued "Foreign", "Guest" or "Visitor" plates between 1915 and 1930 - before uniform reciprocity of passenger vehicles took hold (commercial vehicles, however, would have to wait until 1996 before they enjoyed full reciprocity throughout North America).
In what is thought to be the first year of issue for Colorado, a white-on-red porcelain plate was issued with its most prominent feature being the word "VISITOR" across the middle. In later years, the state switched to the less consipicuous 'G' prefix - denoting a "GUEST".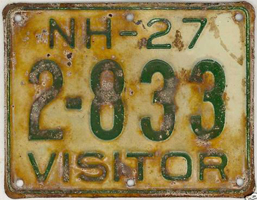 Colorado and New Hampshire are the two most commonly referenced states from this period to have issued distinctive plates to out-of-state motorists, but Memphis is also known to have issued plates to non-residents - even if they were residents of Tennessee (see B&W photos below).
According to Andy Ott, in the case of Colorado, the Guest plates were generally the opposite colours of those used on regular passenger plates; were issued without any extra charge; and by the late 1920s were good for a period of 90 days.
Given the similarities with BC's 1924 'F' prefix plate, it can only be assumed that officials with the MVB were aware of the Colorado program and modeled the BC plate after it.
What's he packing on his hip? Anyways, a great photo of a 1931 Tennessee plated vehicle with a "GUEST" plate from the City of Memphis fastened below. We managed to find a colour photo of one's these plates elsewhere on the web (at bottom-right).
* * * * *
Quite to our surprise, over a century after the Act was amended to include a reference to foreign registered vehicles, Section 21 of the Motor Vehicle Act grants ICBC the authority to register foreign motor vehicles and trailers and to issue "to the owner a certificate of registration in the form established by the corporation, together with a windshield sticker of a design approved by the corporation." It is the requirement of the vehicle owner to then display the sticker "conspicuously" on the lower part of their windshield.

© Copyright Christopher John Garrish. All rights reserved.