On November 10, 2004, the Territory government announced the creation of a Veteran licence plate, with the first plate in the series presented toretired corporal Wayne Wannamaker by the (then) Minister for Community Services, Glenn Hart on March 18, 2005.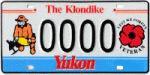 At the presentation ceremony, the Minister stated that "it is my honour to be here today with Corporal Wannamaker, a Yukoner who dedicated himself to the service of our country for twenty years," Hart said. "Mr. Wannamaker was instrumental in designing the licence plates to recognize the sacrifice of Yukon veterans."

Also in attendance at the presentation were president Don Knutson and vice-president Red Grossinger of the Royal Canadian Legion.

"This is a great way to commemorate the 60th anniversary of the end of World War Two," Knutson said. "On behalf of the legion, I would like to thank Corporal Wannamaker for his efforts, and I would also like to thank the motor vehicles branch for assisting us with this initiative."