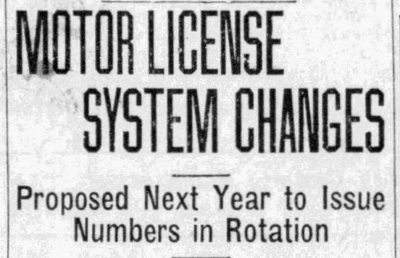 In 1923, the province changed the way in which it issued license plates, moving from allowing all motorists to keep the same number year-after-year, to one in which numbers would be issued sequentially based on whatever was available in the applicable Provincial Police office when a motorist came in to renew.
This was due to the administrative burden of trying to coordinate numbers being sent to the proper motorist based on the previous year's registration information. It also had a significant change in how the province recorded license plate information.
Whereas this information had been recorded in large Registers with the indiivudal motorist's details listed beside each number, starting in 1923 the Register would only record where the blocks of plates had been sent. Individual registration details would be recorded separately and the BC Archives do not appear to have this information for after 1921-22.
As result, the 1923 Register, linked at left and by individual page below, provides information on which communities received which blocks of plates.